For Immediate Release
June 12, 2023 
Contact: Alana O'Hare
aohare@goprovidence.com
(401) 486-3582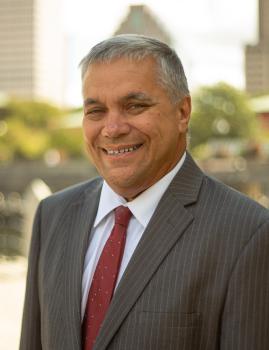 Providence Warwick Convention & Visitors Bureau Announces the Passing of John Gibbons, Executive Director of the RI Sports Commission
Beloved longtime leader made indelible mark on RI sports landscape
Providence, RI - It is with great sadness that the Providence Warwick Convention & Visitors Bureau (PWCVB) announces the passing of John Gibbons, executive director of the Rhode Island Sports Commission (RISC).
"John Gibbons used his immense talent, strong work ethic, and boundless passion for sports and for life to build a program that brought millions of dollars into Rhode Island," said Kristen Adamo, president and CEO of the PWCVB. "But more importantly, he was a devoted family man and a wonderful friend. Many of us at the PWCVB have worked with him for more than a decade. He meant a lot to us professionally and even more personally. We are heartbroken and extend our deepest sympathies to his family." 
Gibbons, 63, joined the PWCVB in 2006. In 2010, he ascended to his role as Executive Director of the RISC, a division of the PWCVB, where he led the transformation of the sports landscape in Rhode Island. In his time with the RISC, Gibbons traveled throughout the country representing Rhode Island and bringing lucrative business to the state, including the NCAA Men's Basketball, Ice Hockey, Division III Wrestling and Lacrosse Tournaments in 2024 and 2025. He was an extremely valued member of the PWCVB team, known for forming strong relationships with clients that helped solidify the state as a top destination for sporting events and sports-related meetings.
"I am deeply saddened and shocked by the untimely passing of John. His departure leaves a void that can never be filled, and his memory will forever remain in our hearts," said Farouk Rajab, general manager of the Providence Marriott Downtown and chairman of the PWCVB Board of Directors. "May we find solace in cherishing the moments we shared and draw strength from the impact he had on our lives. Rest in peace, dear friend."
Gibbons was well-respected throughout the industry for his hard work and dedication, and in 2022 received the Community Hospitality Ambassador of the Year Award by the Rhode Island Hospitality Association. His true passion, though, was for his family, including his beloved wife Amy, their three children, and six grandchildren. Among his coworkers, he was loved for his genuine camaraderie and sense of humor. He was a friend and mentor to many and will be sorely missed.
END
The Providence Warwick Convention & Visitors Bureau is a 501(c)(6) nonprofit organization whose mission is to create vibrant growth for the local hospitality economy by promoting, developing, and expanding a united visitor industry. For more information, contact (401) 456-0200 or visit www.GoProvidence.com.