It's been compared to trick-or-treating for adults - heavy on the treats. The 16th Annual Federal Hill Stroll, returns to Providence on Tuesday, June 9 from 4:30 p.m. to 7:30 p.m. Tickets are on sale now, and admission allows access to 20 participating venues that will be offering tastings of signature dishes or shopping discounts. Guests also receive two beverage tickets to be used at any of the participating restaurants.

Attendees receive a map to plot their course (and courses) at venues such as Italian favorites Andino's, Pane e Vino and Siena, to name just a few. Those looking to explore more global flavors, will want to stop by venues like Bombay Club and Don Jose Tequilas. Leave room for something sweet at Scialo Bros. Bakery or maybe perk up with something caffeinated at Vanuatu Coffee Roasters. Strolling musicians add to the evening's festive atmosphere.
Make note of your favorite spots along the way and help name this year's King of the Hill and Most Creative winners. And you don't have to call it a night once the Stroll is over - restaurants all over the Hill are open for business before, during and after the Stroll.

New this year, Sol Chariots Pedicab Cooperative is providing discounted pedal-powered chariot rides and half-hour tours for event attendees that evening. Call ahead to make a reservation at 401-400-1765.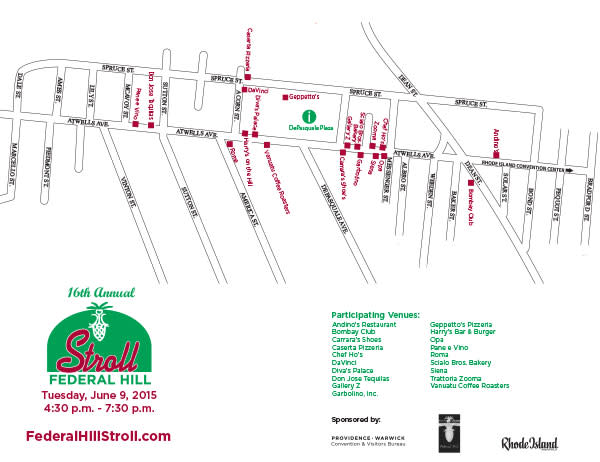 The Federal Hill Stroll is presented by the Providence Warwick Convention & Visitors Bureau and is sponsored by the Federal Hill Commerce Association and Rhode Island Monthly.

Tickets are $30 plus tax and space is limited. For a complete list of participating venues and to purchase tickets visit FederalHillStroll.com.