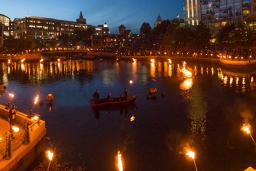 You can travel the globe and never find anything quite like WaterFire. A series of nearly 100... Learn More ›
**UPDATE: New date added! There will be a basin lighting on Thursday, July 27.***

If you ask locals what Providence's signature event is, chances are that most residents would say WaterFire, a series of nearly 100 bonfires that seems to magically perch on the three rivers of downtown Providence. This art installation, created by local artist and Brown grad Barnaby Evans, has attracted hundreds of thousands of people to the Creative Capital every year.

WaterFire is a multisensory spectacle, replete with the comforting aroma of burning wood and the lilting tones of carefully curated music, which amplifies the experience. Street performers, musicians and thousands of attendees add to the enchantment.

Full lightings wind through the downtown area, while partial lightings are confined to the Waterplace Basin. Fires begin at dusk. There are also two special fires — one calling attention to the fight against breast cancer and its survivors, and one honoring our nation's veterans.
While you're downtown for WaterFire, be sure to make a reservation at one of Providence's acclaimed restaurants and then check out the city's nightlife.
Here are the dates for the 2017 WaterFire season:
Friday, May 19
Full Lighting
Saturday, May 27
Full Lighting
Saturday, June 10
Full Lighting
Saturday, June 24
Full Lighting
Saturday, July 8
Full Lighting
Thursday, July 20
Basin Lighting  
Saturday, July 22
Full Lighting
Thursday, July 27
Basin Lighting
Saturday, August 5
Full Lighting
Sunday, September 3
Full Lighting
Saturday, September 23
Full Lighting
Saturday, September 30
Full Lighting
Saturday, November 4
Full Lighting
Scenes from WaterFire - Share yours and use #GoProv