The 41st Annual RI Pride Festival takes over Providence this weekend, June 16–18, celebrating "Rhode Islander's Standing for Equality." The theme, "When We R.I.S.E.," captures the urgency of cross-sectional movements, while promoting unity within the LGBTQ community. Make sure to head downtown this weekend and take part in one of the many exciting events.

PrideFest
RI Pride's PrideFest starts at noon and continues until 7 p.m. on South Water Street. Access to PrideFest is through the South Entrance by Wickenden Street, a North Entrance at the start of Memorial Boulevard and South Water Street. PrideFest will feature a mix of live entertainment, a business marketplace with more than 200-plus vendors, a Kid's Zone, food trucks, the arts, a Youth Center, and a beer, wine and spirits garden. 

Illuminated Night Parade
New England's only nighttime Pride parade kicks off at 8 p.m. and is one of the highlights of the celebration. It features a dazzling display of floats, performing artists, marching groups, businesses and spectators, which winds through downtown Providence and culminates at the RI Pride Reviewing Stand under the historic marquee of the Providence Performing Arts Center. Spectators can watch the parade on Dorrance Street as it continues down Washington Street, then Empire Street and ends on Weybosset Street. The energy in the city is electric, and we send an open invitation to everyone to participate in this weekend's events that transform the city of Providence into a vibrantly visible LGBTQ city.

Party Time
Throughout Pride weekend, the city comes alive with block parties and events. Kick off the weekend on Friday, June 16 at the Official Pre-Pride Block Party at The Village, with a live performance by Frenchie Davis. The Dark Lady/Alley Cat features Big Freedia at their Pride Block Party on Friday, June 16. Head over to Ego on Saturday, June 17 for the RI Pride Main Event, a massive block party hosted by DJ Nina Flowers. Check out New England's only rooftop Tea Dance at the Rooftop at the Providence G from 3 p.m. to 9 p.m. on Sunday, June 18.
RI PrideFest 2017 Map
Click on the map below for a larger pdf file to view or print.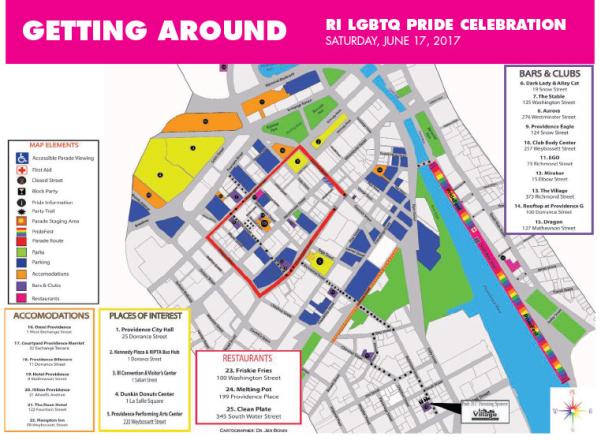 View a full list of Pride Events >>
While celebrating this weekend, don't forget to check out some local restaurants.