Grab your flannel and some friends, it's time to raise a glass to fall! Take a break from apple picking and check out some of the city's premier outdoor beer gardens.
Trinity Beer Garden
Located at Biltmore Park and just blocks away from Trinity Brewhouse, Trinity Beer Garden offers some of the freshest outdoor beers you can find in the city. If you're not a beer drinker, they've also got cocktails and wine in addition to a rotating food menu. Weekly programming features live trivia, music and comedy, plus football on the big screen every Sunday. Open Thursday–Sunday, 4:30–9 p.m. Reservations encouraged.
The Guild PVD Beer Garden
The Guild has opened a seasonal beer garden by the Providence Pedestrian Bridge. You'll find a variety of beers brewed at their Pawtucket brewery available to enjoy with unmatched views of the Providence skyline. Each weekend will feature two food trucks for all your snacking needs. Open Friday, 3–6 p.m., Saturday, 1–6 p.m., and Sunday, 12–5 p.m. through Nov. 1. No reservations, walk-up only.
GPub Beer Garden
The GPub Beer Garden will take over Orange Street and offer all the fun Providence GPub vibes you know and love out in the open air. When the sun goes down, the heaters start cranking so you can enjoy your selections from the new craft beer and pub food menus through the night. Open Wednesday–Thursday, 5–11 p.m., Friday, 5 p.m.–midnight, and Saturday–Sunday, noon–11 p.m. Reservations aren't required, but are strongly encouraged.
Moniker Brewery
Moniker Brewery, Providence's newest brewery, plans to open its doors this fall. Located in a former mechanic shop, the building's been beautifully converted to feature plenty of open indoor space when the garage doors are up, as well as outdoor space in its custom beer garden. Brewer Jeff Goodno's love for lagers will mean plenty of crisp pints that pair perfectly with the cooling weather.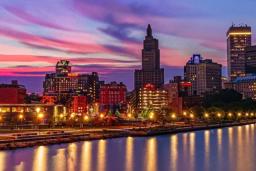 With so many restaurants participating in Providence Restaurant Weeks for takeout and dine-in Learn More ›