The sound of fire crackling, combined with the warmth of the summer months approaching, brings back the excitement of the return of WaterFire Providence. The first WaterFire of the season takes place May 26, with a full lighting beginning at 8:09 p.m. WaterFire spans the rivers running through Providence and includes many different experiences as you explore the waterway, such as artistic acts, flame throwers, themed parks and more. Here are some tips on ways to get the most of your experience at WaterFire Providence.
WaterFire by Boat

Experience the fires by pontoon with Providence River Boat Company's 30-minute evening cruise through the braziers. Boats leave from the dock at Waterplace Park and should be reserved in advance, as they often sell out. Boats have a capacity of 18, so plan a trip with the family, a group of friends or join others for an evening on the water at Providence's signature event.
Dining Fireside

Providence's nationally acclaimed culinary scene is the perfect setting for a WaterFire viewing. There are many restaurants in close proximity to the fires, but some offer "fireside" seating with spectacular views of WaterFire. Some of these restaurants include The Capital Grille, Hemenway's, Café Nuovo, Quay and Jackie's Waterplace. Be sure to make your reservations early.
Gondola Ride Through the Braziers

Hop aboard an authentic Venetian gondola with La Gondola for a truly one-of-a-kind experience during WaterFire. Feel free to bring your own bottle of wine to enjoy as they serve homemade Italian wine biscuits. Take in the eclectic mix of WaterFire music as your gondolier guides you through the braziers on the river. La Gondola can accommodate up to six passengers and reservations are recommended.
Cozy Up Along the River

One the best things about WaterFire is that there isn't a bad seat to be found. Whether you sit on the benches along the waterways, view from the edge of the river or stand overlooking from the street, each provide a memorable experience. WaterFire is a free attraction, so pack a picnic, grab a coffee or enjoy the food trucks as you walk around enjoy this multisensory experience.
Be sure to book your hotel reservations for the upcoming WaterFire dates as they will sell out. Click here for a full list of restaurants in the city and check out other events happening in the city on our calendar of events.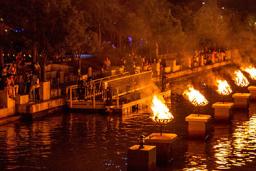 Check out the dates for WaterFire's 2019 season here and start planning your visit. Learn More ›