"A Christmas Carol" at Trinity Rep will certainly look a little different this year as it goes virtual for the first time. But fear not, these changes mean there are a lot of new and exciting ways to experience the festivities. Check out some of our top reasons why you just can't miss this holiday classic.
1. It's Free!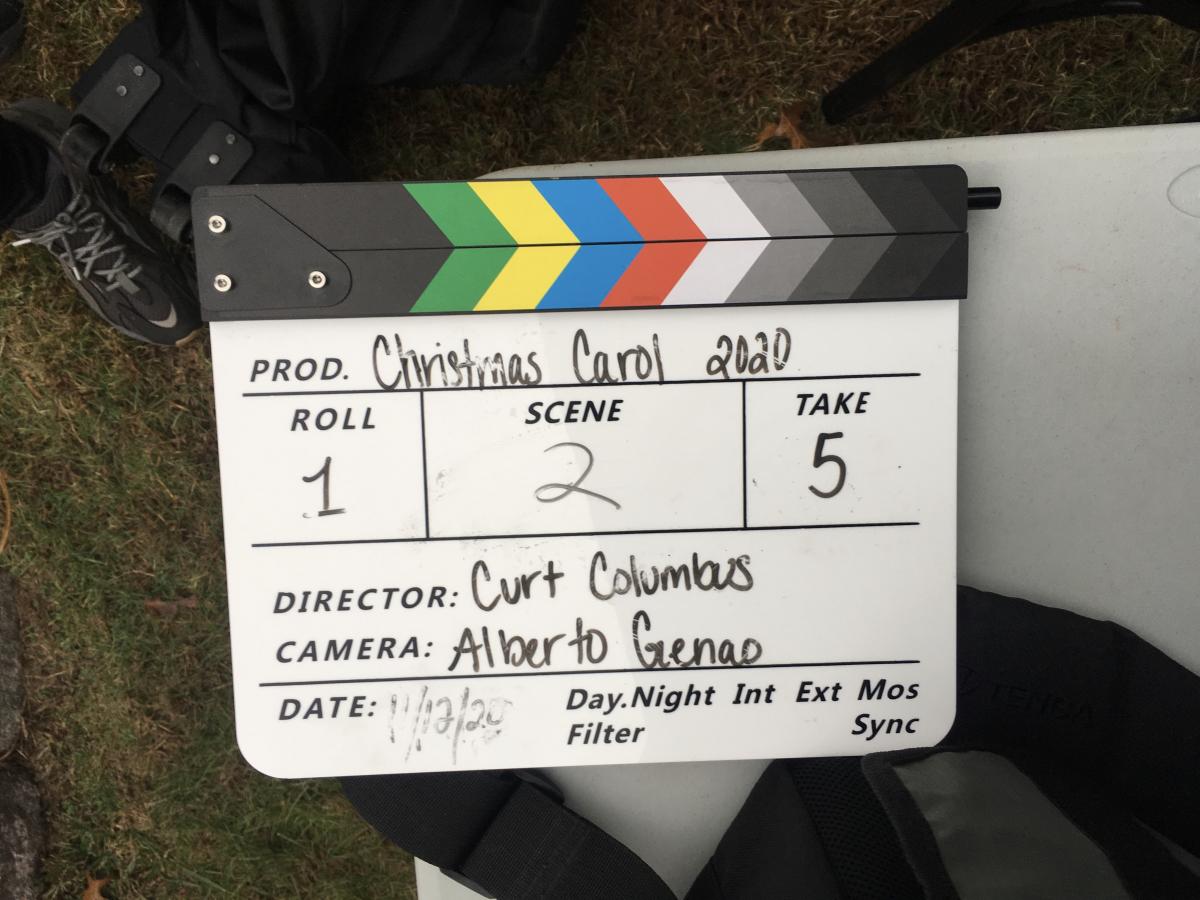 Photo: Anne Harrigan

Really! No cost at all to you! Thanks to sponsors and donors who are underwriting the production and distribution costs, we can offer this holiday gift to you for free. Plus, you can watch the on-demand video whenever you want, and as many times as you want, between Dec. 17 and Jan. 10. Who doesn't love a free gift — especially this year! Just register at trinityrep.com/carol for your free access link. (Of course, if you are inspired to contribute to support Trinity Rep, we will gratefully accept your tax-deductible donations.)
2. You Can Show Off Your Local Theater to Friends and Family Around the World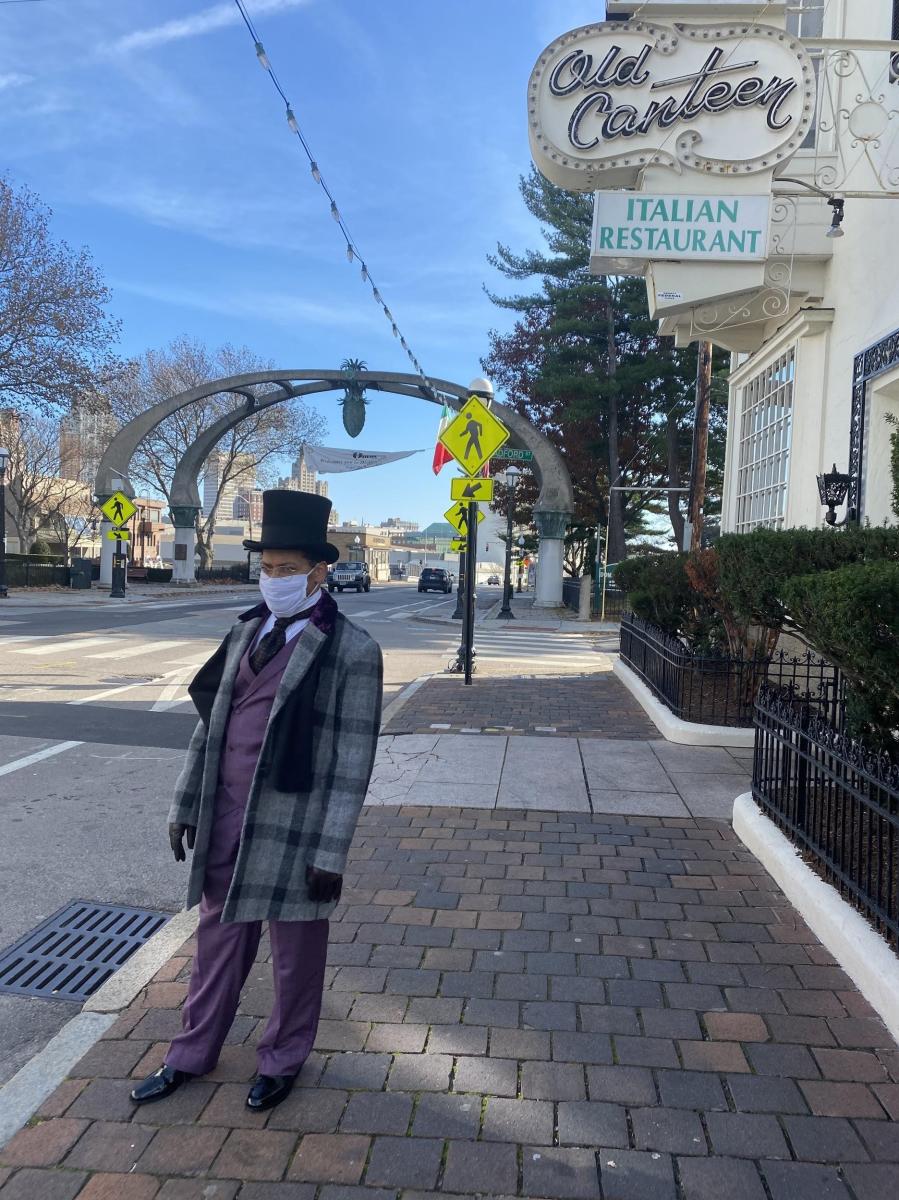 Joe Wilson, Jr. as Scrooge filming on Federal Hill in Providence. Photo by Amanda Downing Carney.

It doesn't matter where your friends and family live, you can share a holiday experience together — and show off the big talent and creativity coming from our little state. Organize a watch party and you can all see the show together no matter where you are. Watch the video on one device and use another to call or Zoom with each other. Make sure you each register separately, though, since your access link will work on only one device at a time.
3. Familiar Faces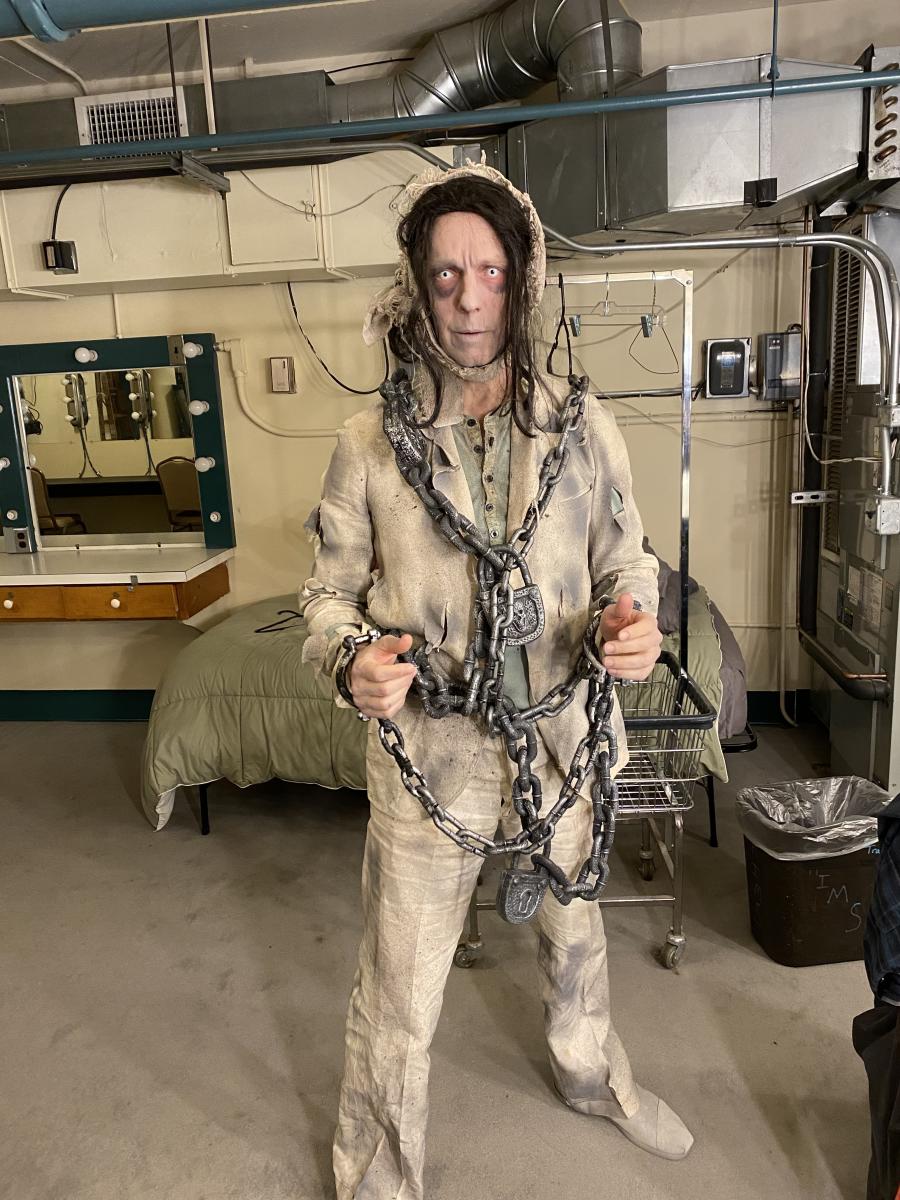 Stephen Thorne as Jacob Marley during filming. Photo by Amanda Downing Carney.

Some of Trinity Rep's most recognized faces will appear on screen, including Joe Wilson, Jr. as Ebenezer Scrooge, Daniel Duque-Estrada, Taavon Gamble, Rebecca Gibel, Stephen Thorne and Rachael Warren. Nothing beats seeing their talent live and in-person, but they are also incredible on-screen! We can't guarantee that you'll recognize some of them, though. The makeup and costumes are pretty incredible.
4. Be a Part of the Action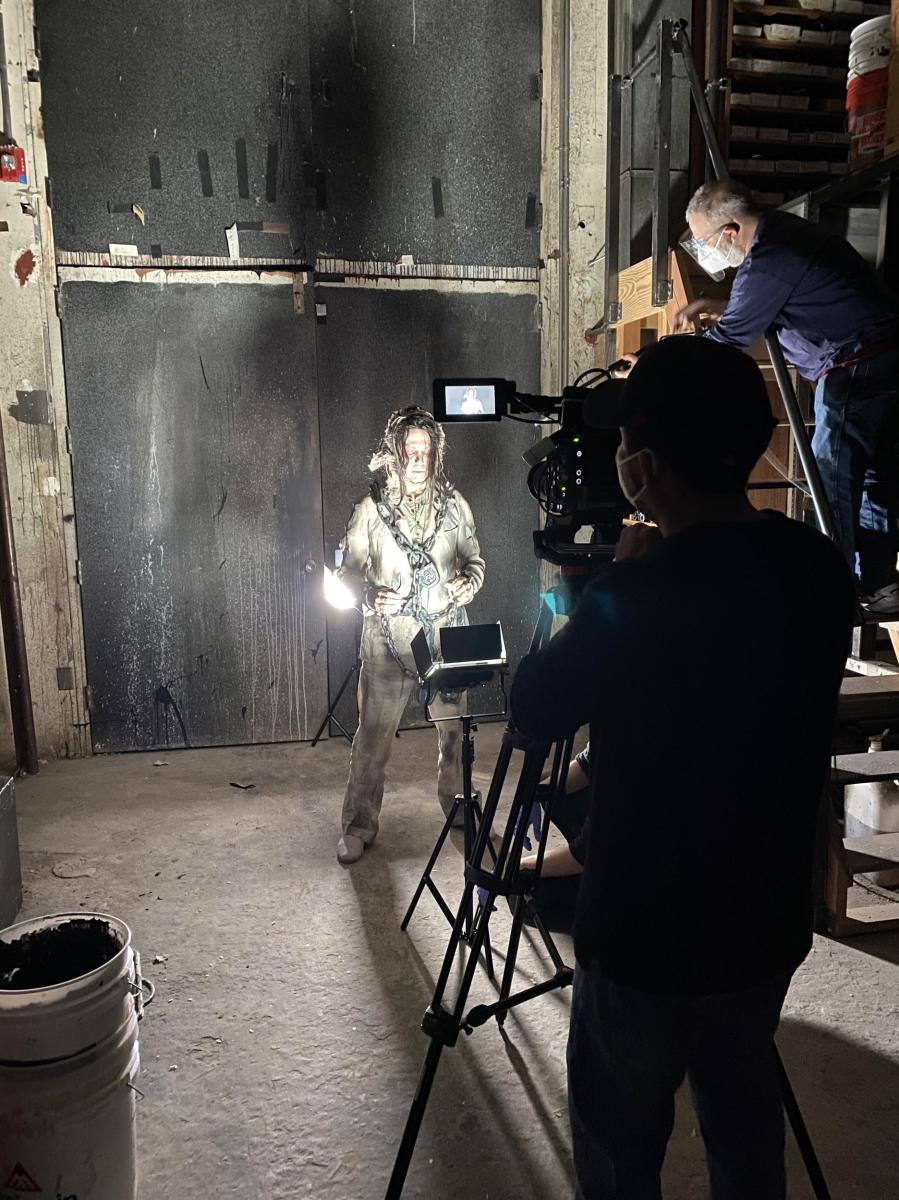 Stephen Thorne as Jacob Marley during filming. Photo by Amanda Downing Carney.

This part is particularly fun for the kids in your family! We've got a list of props that you can gather (like pots and spoons, bubbles, a festive hat and more) and one of the characters on screen will tell you when to pull them out so you can be part of the action from home. We also include a recipe for Fezziwig's Punch that you can make and enjoy during the show. Don't have them all or don't want to participate? No problem — you're at home, no one will ever know!
5. It's Unlike Any Version of "A Christmas Carol" You've Ever Seen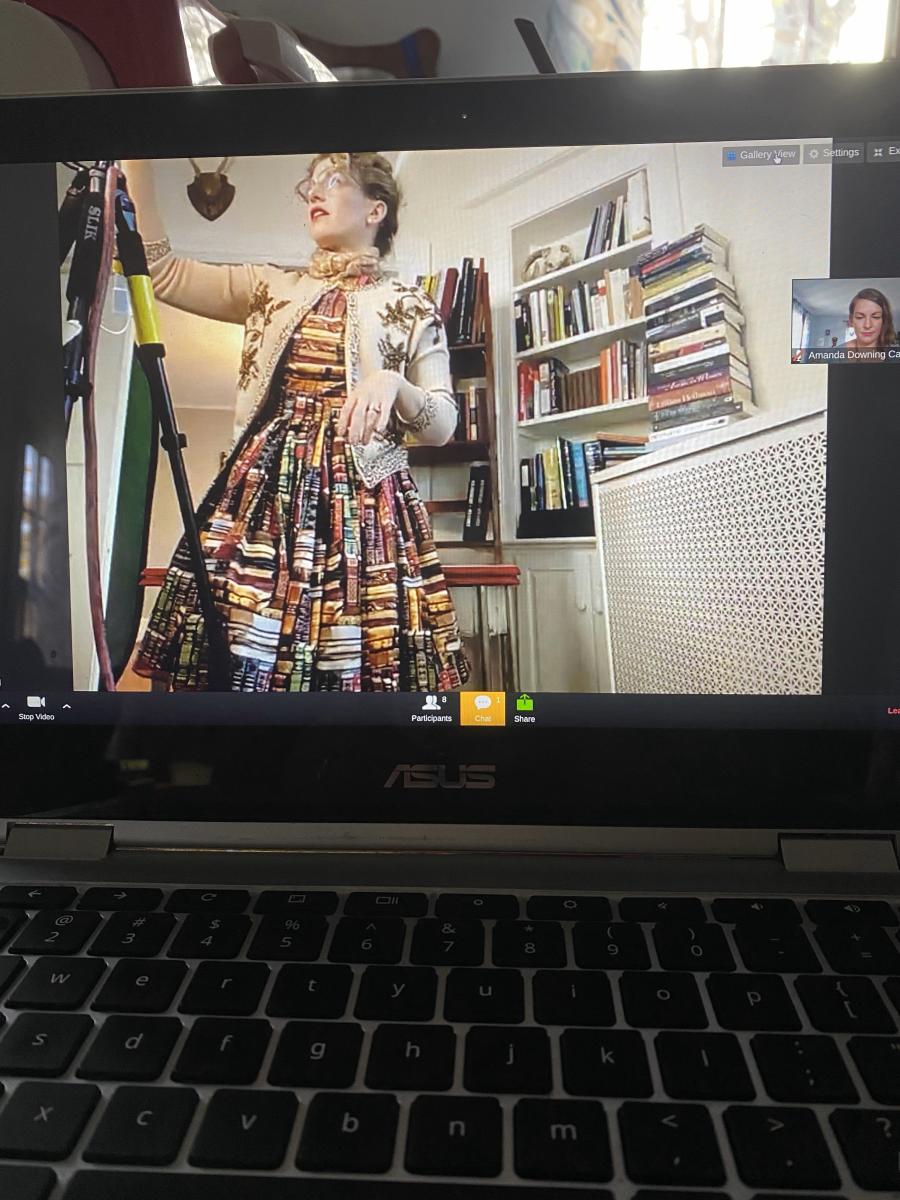 Rebecca Gibel as the Ghost of Christmas Past, setting up to film at home. Photo by Amanda Downing Carney.

Deep down, we all miss doing in-person theater, but since we can't, we're embracing the opportunities that come from new media. We filmed some scenes in person, like a traditional film (but with all the necessary safety precautions). We also sent props, costumes and cameras to actors' homes from Rhode Island to California, so they could film themselves and send us the footage. Then we added things like illustrations to make it an even more rich and engaging experience. So, while Scrooge has a change of heart at the end (oops, we didn't mean to give that away), you won't really know what to expect from this truly unique and memorable holiday show! (Plus, again see #1 above — it's free!)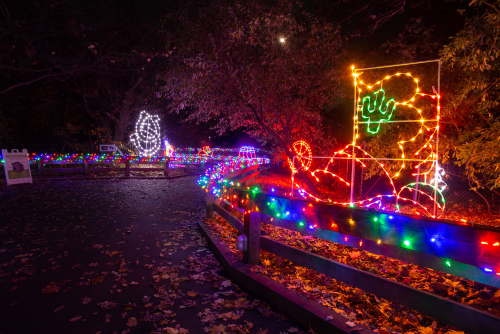 Looking for some holiday cheer this season? Head to Providence, RI and experience the warmth and... Learn More ›