Clearly moms should be lauded, celebrated and pampered throughout the year. But — speaking for myself — I'm happy to at least get one day. There are so many ways you can treat your mom to a special day in Providence and beyond, including brunches, museums, boat rides and more. If you're looking for a stellar gift or way to spend the day with mom (and really clinch your spot as her numero uno kid) here are some suggestions.

If you're headed to a brunch, lunch or any other festivity in honor of mom, be sure to grab a bottle of Champagne, rosé or whatever mom fancies at Gasbarro's Wine. Located in the heart of Federal Hill, Gasbarro's has a long history of wine expertise, being founded in 1898, and features a vast collection of wines from Italy and California. And if you need a little assistance, their experts will be happy to help you pick the perfect bottle to toast mom.

Select from Providence Perfume Company's assorted fragrances, handcrafted from natural botanical ingredients, including essential oils and real plants, flowers and more. Better yet, go with mom and have her design her own signature scent at Providence Perfume Company's Mother's Day Custom Perfume Event on May 12, which also includes refreshments, a commemorative photo and more. Be sure to register ahead of time.
Mother's Day Boat Rides

Get outside and enjoy the fresh air on Mother's Day with the Providence River Boat Company.This fun gift idea includes a 50-minute tour gliding along Providence's picturesque waterways. To top it all off, anyone over 21 will receive a complimentary Prosecco. 

Ah, a spa day — the Holy Grail of motherhood. Join mom at the Seawater Spa at Gurney's Newport Resort & Marina and sit back and relish a day of amazing water views and a range of treatments, including facials, massages, scrubs, wraps and aromatherapy.  
Spend the day in Garden City Center in nearby Cranston strolling around and stopping into the dozens of shops and restaurants, ranging from the eclectic wares at Anthropologie to the always chic style of White House Black Market. Then have some lunch (and maybe an espresso and tiramisu) at Avvio Ristorante. 
Visit our Mother's Day page for more ideas on what to do for Mother's Day this year.  
Bonus Points for Bublé ...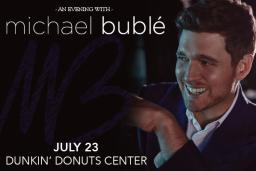 Enter to Win
Treat mom to two tickets to "An Evening With Michael Bublé" at the Dunkin' Donuts Center on July 23.