Providence is home to some of the best grown-up Halloween parties across the state. Get ready to experience incredible displays of molten metal, explore a historic castle open to the public, compete in fun costume contests and more.
The 14th Annual Iron Pour returns to The Steel Yard Saturday, Oct. 19 at 5 p.m., with live music, beer and great food. Considered one of the "raddest and hottest" Halloween parties in the city, watch as The Steel Yard transforms its space into a theatrical display of fire and art. Larger-than-life sculptures will be activated by fire and molten metal. If you have never seen a live performative iron pour, this is a must for your Halloween party calendar.         
Halloween CarnEvil Celebration

Come one, come all to Newport Vineyards' 4th Annual Halloween CarnEvil on Friday, Oct. 25! Sip on offerings from Newport Vineyards or Taproot Brewing Company while dressed in your spookiest costume. Along with food and drink, the evening will include performers, music, dancing and prizes for the best costume.
Halloween at the Castle

Step back into time at Barnaby Castle, built in 1875 and considered the jewel of the West Side, for an All Hallow's Eve Party on Saturday, Oct. 26 at 8 p.m. Guests are encouraged to come dressed in their best costumes as they enjoy local fare, special performances by Miss Wensday, a DJ, and, of course, a costume contest. General admission tickets and VIP tickets are both available.
The RI NOW Haunted House of Political Horrors

Join the Rhode Island National Organization for Women (RI NOW) for a night of political horrors on Wednesday, Oct. 30 from 7-10 p.m. at 24 Stimson St. The evening will include games, a costume contest, food, drinks and dancing. This is sure to be one of the more fun, political, and witty Halloween parties you've ever attended.
Rocky Horror Picture Show

Join the RKO Army as they bring the cult classic movie "The Rocky Horror Picture Show" to the Greenwich Odium in East Greenwich, RI on Friday, Oct. 18. Much more than just a movie screening, this interactive event will get you dancing along and shouting lines back at the film. Prop bags are available for purchase for those who really want to get in on the fun.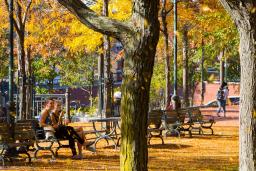 Providence, RI is a great place to visit in the fall, with walking tours, outdoor dining, open air... Learn More ›