Trinity Rep's "A Christmas Carol" is a time-honored tradition, which Rhode Islanders look forward to every year. It brings joy into our lives during a season focused on family, friendship and giving. This year especially, with the coronavirus pandemic, we could all use a little extra joy.
With their in-person theatrical performances canceled for the time being, Trinity Rep has made the exciting announcement that they will be creating an online production of "A Christmas Carol." And, to top it all off, the show will be offered free of charge to viewers, beginning in late November.
Directed by Curt Columbus and featuring Joe Wilson, Jr. as Ebenezer Scrooge, this year's "A Christmas Carol" will continue Trinity's tradition of reinventing this classic tale of redemption. Trinity has always used casting, direction and design to put a new spin on the show each year, and now this digital format allows for greater technological possibilities.
More information about the specifics of the production is still to come. Keep track of updates at TrinityRep.com/carol.
To help you get into the pre-holiday spirit, here are a few videos we've created about past performances of "A Christmas Carol."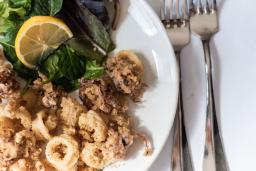 Our little state has been in the headlines a whole lot this week after the big shout-out to the... Learn More ›