Trinity Rep's "A Christmas Carol" is a time-honored tradition, which Rhode Islanders look forward to every year. It brings joy into our lives during a season focused on family, friendship and giving. This year especially, with the pandemic, we could all use a little extra joy.
With their in-person theatrical performances canceled for the time being, Trinity Rep has made the exciting announcement that they've created an on-demand online production of "A Christmas Carol." And, to top it all off, you can view the show free of charge, though donations are greatly appreciated, beginning Dec. 17 through Jan. 10. Sign up early for behind-the-scenes photos sent right to your inbox.
Filming this production involved in-person segments, which followed strict safety guidelines, and scenes recorded by actors in their homes. Cameras, props and costumes were actually shipped to locations throughout Rhode Island, and as far away as California. This streaming event includes animation and opportunities for at-home audience participation as part of the fun. Bonus content, including a community sing-a-long, will be released with the main feature.
Directed by Curt Columbus and featuring Joe Wilson, Jr. as Ebenezer Scrooge, this year's "A Christmas Carol" will continue Trinity's tradition of reinventing this classic tale of redemption. Trinity has always used casting, direction and design to put a new spin on the show each year, and now this digital format allows for greater technological possibilities.
You can register and learn more about how to prepare for the performance at TrinityRep.com/carol.
To help you get into the pre-holiday spirit, here are a few videos we've created about past performances of "A Christmas Carol."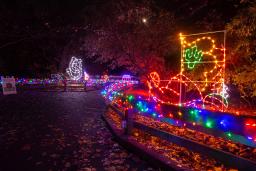 Looking for some holiday cheer this season? Head to Providence, RI and experience the warmth and... Learn More ›