As clouds burned off from summer's heat, the sun finally poked out just in time for the kickoff of the 15th annual Federal Hill Stroll. With nearly 1,300 tickets sold, folks enjoyed sampling a variety of signature dishes from some of the best restaurants in the Ocean State. Those who purchased a ticket for the Stroll also received two complimentary drink tickets.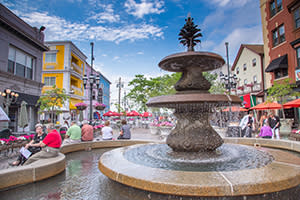 Many participating restaurants offered signature cocktails prepared just for the Stroll. Andino's, along with Geppetto's Grilled Pizzeria, featured an array of fabulous sangrias. Chef Ho's offered Mai Tai and Blue Hawaiian mixed drinks that were paired with boneless spare ribs over a bed of freshly cooked pork fried rice.

Caserta's Pizza offered their award-winning Wimpy-Skimpy spinach pies along with fresh, thick-sliced pizza.

With another successful stroll in the books, participants handed in their voting ballots, content with full-tummies on what turned out to be a beautiful day in the heart of Providence. After tallying up the votes, D'Vine on the Hill won Most Creative Venue and Andino's Restaurant won King of the Hill. All of the participating restaurants received rave reviews from happy diners, proving why Federal Hill has been ranked one of the best Little Italy establishments in the United States.