Summer's warm temperatures have turned our thoughts to moving outside for one of our favorite activities - eating! Lucky for us, lots of local restaurants offer al fresco - translated to "in the open air" - dining, no matter what your mood or craving.
Caffe Dolce Vita's $14.95 three-course prix fixe lunch is one of the best deals on Federal Hill, and enjoying it in the heart of DePasquale Plaza adds a decidedly European feel to your afternoon. Not to mention, the people-watching here is fantastic.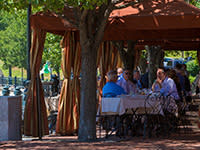 If shopping is on the agenda, you can always wrap up a morning of splurging in Garden City at Chapel Grille in Cranston - their new lunch menu is available on their gorgeous terrace, which boasts great views. In fact, you can see all the way to downtown Providence.
Barbecue and picnic tables more your style? Rick's Roadhouse in downtown's Jewelry District is the right choice then, and you can sneak in a game of pool on your lunch break ... never a bad thing, right?
And with views of the Bay and the busy sailing hub that is Bristol, DeWolf Tavern in the heart of that small town might sport one of the best views in the state, and on sultry afternoons there are few better places for a cocktail and a bite to eat.
Whatever your choice or your location, get outside and enjoy a meal during these sweet days of summer. Not only are the ingredients delectable and super-fresh at this time of year, but the choices of restaurants are pretty irresistible too.