Businesses are opening back up, people are venturing out, but summer is a time to enjoy some quality backyard time as well. Since we've all taken hanging out at home to the next level over the past few months, it's time to step up your home entertaining game. Whether you're looking for ideas to occupy your family or for a small socially distanced gathering, two local entertainment companies, WRIK Entertainment and Luke Renchan Entertainment, are offering a variety of options that suit the health and safety concerns of the times and are just plain fun.
Both WRIK and Luke Renchan are offering at-home outdoor movie experiences — a recent popular trend. Turn your yard into an open air cinema with screen and projector rentals. You provide the movie, so the choices are endless. Then just step out your door and watch a movie under the stars. Go big and rent a popcorn maker to top it all off. You'll be the family hero.
Plan a fun night at home with one of WRIK's wide variety of virtual activities that owner Rick Lataille and his team have pulled together. Center yourself with a yoga class, blow off some steam with boxing, or better yet, sip your way through a wine tasting. From Jeopardy to juggling there are a ton of virtual event options. The best part is you can do it all from the comfort of your living room.
Luke Renchan Entertainment is offering virtual party services such as virtual DJs who can play from a list you help create or even take live requests. Schedule a social distance party where Renchan or a member of his team will swing by with live music and perform from the street or driveway. Options abound in this new era of event planning, including live streaming events to keep guest lists low.
Both companies also offer mobile digital photo booths with virtual props, which can be completely touchless for the customer. Or try out the futuristic, very Jetsons-like Rover Robot Photo Booth from Renchan, run by a remote control. 
Start planning some summer fun by contacting WRIK and Luke Renchan now.
Be sure to click here to read Rhode Island Monthly's recent blog about Luke Renchan.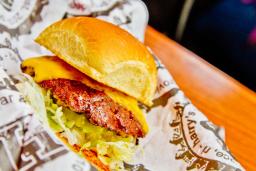 Many of Providence's area restaurants are offering takeout and delivery. Please note that some... Learn More ›