While watching interviews with famous actresses who claim to be aging gracefully, I am usually staring intently at my hi-def television trying to figure out what, if any, work they've had done. Fact is, I don't believe them. Even if they haven't had any cosmetic surgery, chances are they've probably had some amazing treatment that I could never afford.
I was wrong.
The Spa at the Providence Biltmore invited me to try their new facial that includes microdermabrasion. After congratulating me on being a "candidate" for the procedure - which was a very lovely way of saying my skin could use some pepping up - the aesthetician explained that microdermabrasion was like having a tiny vacuum suck up all your dead skin cells. While it stings a tiny bit, it doesn't hurt and is done in such a soothing and serene setting that it really doesn't matter. It doesn't take very long and is part of a complete facial treatment that is luxurious and rejuvenating.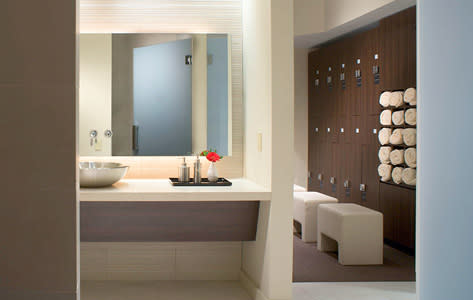 Afterwards, I spent some time in the Spa's new infrared sauna. From the outside, it resembles a child's playhouse, with wood construction and a glass door. Inside, there is an angled bench to lean back and relax. Because the heat is infrared, there is no steam, which is great for contact lens wearers like me. Also, since it is so dry, the heat doesn't feel as oppressive and is more relaxing.
I definitely felt and looked better after my visit to the Spa.  The sauna gave me so much more energy that I skipped my trip to the Starbucks next door. The facial left my skin so vibrant and refreshed that I could get away with minimal makeup for the next few days.
After all that pampering at the Spa at the Biltmore, I am sure that I'm ready for my Hollywood close-up. Does anyone know what Tom Hardy is doing today?