New England has a reputation for unpredictable weather conditions. As we saw recently, we can go from subzero temperatures, to an uncharacteristically warm 50 degrees in just a few days. At the Roger Williams Park Zoo, the animal care staff is constantly aware of this ever-changing trend, because the lives of more than 100 species that call the zoo "home" are in their hands.
"No matter what the weather event is, our zookeepers are going to make sure they make it in to work to look after their animals," said P.J. Jones, animal care manager for the zoo. "For them, to do otherwise would be the equivalent of abandoning a family member."
RWP Zoo has many exotic animals on exhibit. Some are well adapted to cold weather conditions, like the snow leopards, moon bears, bison and pronghorn. Others, spend cold winter months indoors in our Elephant and Giraffe Pavilion, or the Australasia and Tropical America buildings, or in their indoor holding facilities.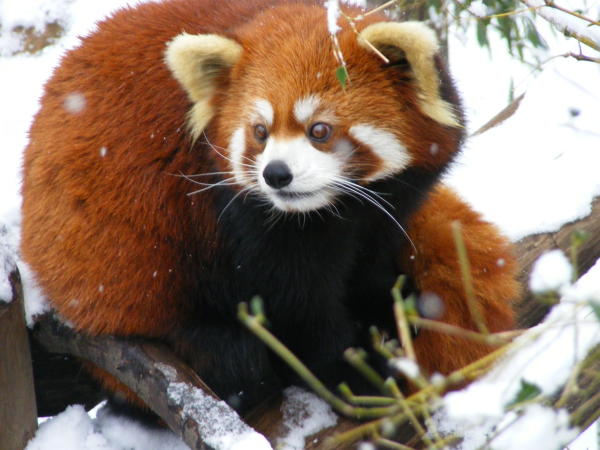 During a blizzard or snow storm with accumulation, P.J. said some animals, like those in the Marco Polo exhibit area, thrive in colder temperatures. "Species, like red pandas, snow leopards, or Sichuan takin, are wonderfully adapted with thick coats and feet that are evolved for walking in deep snow. We check them throughout the day, but they always do just fine."
In the case of extreme cold, P.J. says, "Some animals are more marginal about their cold tolerance. They're fine with a 'normal' New England winter, but subzero temperatures become a bit much. In those cases, we may keep them inside and supply a lot of supplemental heat."
The keepers at RWP Zoo work through floods, blizzards, hurricanes and other natural disasters to care for their animals. "Despite the increasing number of natural disasters we are seeing because of global climate change, zoos across the country have done a great job seeing their charges through these events. There is no doubt that this is due to the dedication of the animal care staff in planning and executing their disaster plans," said P.J.