'Tis the season ... for desserts! What better way to celebrate the holiday season than with a delicious dessert recipe from a local chef? Executive Pastry Chef Matthew Petersen from Newport Restaurant Group is here to share three of his favorite holiday recipes so you can make them at home. Today we're featuring his Caramel Cheesecake with Cranberry Sweet and Sour Sauce. Watch the video below and see the full recipe as well. 
Caramel Cheesecake With Cranberry Sweet and Sour Sauce
Ingredients:
Caramel:
1 cup sugar
1 cup heavy cream, warmed
3 tablespoons unsalted butter
1 teaspoon kosher salt
Cranberry Sweet and Sour Sauce:
1 cup dried cranberries
1/2 cup sugar
1 each lemon, zested and juiced
1 cup water
1/2 cup sherry vinegar
Cheesecake:
6 tablespoons unsalted butter, melted
2 cups graham cracker crumbs
2.25 pounds Philadelphia cream cheese, room temperature
1 cup sugar
1/2 teaspoon salt
1 each vanilla pod
2 each whole eggs
1 each egg yolk
1/4 cup + 2 tablespoons heavy cream
Steps:
Caramel:
1. Caramelize the sugar in a stainless steel heavy bottom pot using the dry method - start with a small amount of sugar and increase with each addition as the sugar melts - always stir from the center using a wooden/high-heat spoon.
2. Slowly whisk in the warm heavy cream taking care not to burn yourself.
3. Whisk to a smooth consistency then add the butter and salt.
4. Reserve at room temperature - cover when cool.
Cranberry Sweet and Sour Sauce:
1. Combine all of the ingredients and stir over a medium flame.
2. Gently simmer until most of the liquid has evaporated, stirring occasionally.
3. Once the syrup has thickened remove from heat.
Cheesecake and Finish:
Crust:
1. Mix the butter and crumbs together until well blended.
2. Press into a 9" cake pan along the bottom and sides.
3. Bake for 7 minutes at 350 F.
4. Cool to room temperature and prepare the filling.
Filling:
1. Using the paddle with a stand mixer cream the cheese, sugar, salt and scraped vanilla pod together; take care not to incorporate too much air.
2. Add one egg and blend - scrape the bowl using a rubber spatula.
3. Add the remaining egg and egg yolk.
4. Blend well and scrape, then blend again.
5. Add the heavy cream and stir just to combine. Do not overmix.
6. Pour the custard into your prepared pan.
7. Stir in 1/2 to 1 cup of room temperature caramel by drizzling in a circular or crosshatch pattern, then run a skewer through it a couple times.
8. Bake at 250 F for 30 minutes just until set.
9. Refrigerate overnight before serving.
About the Chef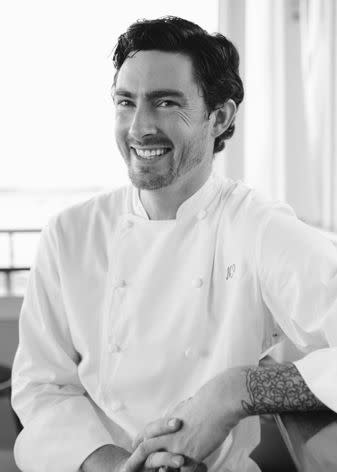 Matthew Petersen
Executive Pastry Chef
Newport Restaurant Group/Papa Razzi Metro
As Executive Pastry Chef of Papa Razzi Metro, Chef Matthew Petersen elevates every guest's experience with delicious, artfully crafted desserts and bread. "I view my job as an important one, because my team's creations are the first and last items you see on the table," says Chef Petersen.
Growing up in the suburbs of Philadelphia, Chef Petersen's memories of his mother relentlessly baking cakes, cookies and pies was a key component in his decision to pursue the culinary arts. Fueled by his passion for confections, Chef Petersen enrolled at Johnson & Wales University in Providence, R.I. where he graduated with a degree in Baking and Pastry. Chef Petersen then took a pastry chef position at the Relais & Châteaux Castle Hill Inn kitchen, working alongside Chef Casey Riley. Next, Chef Petersen relocated back to Philadelphia, where he took over the position of pastry chef at the distinguished Morimoto restaurant.
Chef Petersen's time under Masaharu Morimoto quickly led to a position at LaCroix, working with Philadelphia's "Godfather" of French cuisine, Jean-Marie LaCroix. It was there that Petersen not only learned to refine his style and technique, but was invited to stage at Daniel Boulud's restaurant in New York, Daniel. Chef Petersen soon went on to acquire the title of pastry chef at Boulud's midtown restaurant DB Bistro Moderne, which led to a position as executive pastry chef for CityZen and Sou'Wester at the Mandarin Oriental in Washington, D.C. Chef Petersen's extensive culinary knowledge brought him back up the Eastern Seaboard, where he took on the role of executive pastry chef for the highly esteemed Newport Restaurant Group before joining the Metro team.
Chef Petersen's love and appreciation for classic and experimental desserts translates seamlessly onto Metro's menu, where he aims to transform familiar favorites into desserts that guests have never seen before. Chef Petersen says, "My desserts are a reflection of me and where I've been - I show who I am on the plate."