Día de Los Muertos is a Mexican tradition all about celebrating life and remembering our deceased loved ones. November 1–2 are considered to be the days where life on earth and life in the land of the dead come together. This is a time when the loved ones who have passed on return symbolically to appreciate life's pleasures, such as eating, drinking and reuniting with their families here on earth.
Día de Los Muertos recognizes death as a natural part of the human experience: a continuum with birth, childhood and adulthood. On Día de Los Muertos, the dead are also a part of our community, awakened from their eternal sleep to be in spirit with loved ones here on earth.
In past years, as Mexican families and communities across the country come together for Día de Los Muertos, Rhode Island Latino Arts (RILA) has joined the celebration at our location inside the Southside Cultural Center (SCC) in South Providence by setting out a traditional ofrenda, or altar, with photos, mementos and educational information about the meaning of the celebration. Because I am of Mexican heritage, I wanted to do this as a way to educate the general public about the true meaning of this celebration, mainly emphasizing that it is NOT the Mexican Halloween!
As part of RILA's programming, we typically invite musicians and dancers from the Mexican community in Rhode Island to perform for a night of festivities followed by a procession to Grace Church Cemetery, located on Broad Street across from the SCC. There, we would end the night by inviting community members to pay homage to lost loved ones and then to tour the cemetery, to learn about the lives of those who are buried there.
This year, after so many lives lost to COVID-19, including two members of my own family, I felt strongly that our annual celebration of Día de Los Muertos must go on. However, having drawn more than 60 people in years past, I realized that the event and celebration this year would have to include social distancing.
With the support of Christina Bevilaqua and Janaya Kizzie from the Providence Public Library, and Michelle Cruz and Jordan Butterfield from Trinity Rep, the event this year will be held outdoors in the form of a broader community event on the steps of the Providence Public Library in Downtown Providence.
A Call to the Community: How You Can Participate
As we prepare for the event, we would like to invite anyone who has lost a loved one this year, whether it was to COVID-19 or otherwise, to help us create a Community Ofrenda Art Installation. All we ask is that you write a note or poem, and find photos and an object that reminds you of a relative, friend or colleague you'd like to remember. Be sure to make copies of your images, as we do not want your originals to get damaged. Then bring everything to the Community Ofrenda on Monday, Nov. 1, between 5–8 p.m.
The setup of the ofrenda, outside on the steps of the library, will work well for social distancing and visiting safely, as we will ensure there is a no-touch rule once items are placed. While wearing a mask as you come to view the altarpieces is mandatory, I hope it does not deter you from joining us.
We have all experienced so much loss these past several months, and I'm hopeful that Día de Los Muertos will mean so much more this year. Despite the challenges of 2020, I'm hoping people will find solace in setting up their own personal mini ofrenda, and most importantly, that we find the event uplifting as we bring our deceased back to life through our memories of life and love.
For more information or to volunteer, visit the RILA website or write to Marta V. Martinez at marta@rilatinoarts.org.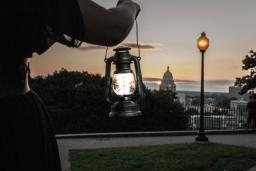 Fall and the Halloween season are upon us, and Providence, RI is brimming with ways... Learn More ›