Dí​a de Los Muertos is a Mexican tradition all about celebrating life and remembering our deceased loved ones. November 1–2 are considered to be the days where life on earth and life in the land of the dead come together. This is a time when the loved ones who have passed on return symbolically to appreciate life's pleasures, such as eating, drinking and reuniting with their families here on earth.
Día de Los Muertos recognizes death as a natural part of the human experience: a continuum with birth, childhood and adulthood. On Día de Los Muertos, the dead are also a part of our community, awakened from their eternal sleep to be in spirit with loved ones here on earth.
In past years, as Mexican families and communities across the country come together for Día de Los Muertos, Rhode Island Latino Arts (RILA) has joined the celebration at our location inside the Southside Cultural Center (SCC) in South Providence by setting out a traditional ofrenda, or altar, with photos, mementos and educational information about the meaning of the celebration. Because I am of Mexican heritage, I wanted to do this as a way to educate the general public about the true meaning of this celebration, mainly emphasizing that it is NOT the Mexican Halloween!
As part of RILA's programming, we typically invite musicians and dancers from the Mexican community in Rhode Island to perform for a night of festivities. We end the night by inviting community members to pay homage to lost loved ones with a procession through the cemetery.
In partnership with the North Burial Ground and the Haffenreffer Museum of Anthropology at Brown University, the event this year will be held outdoors in the form of a broader community event at the North Burial Ground at 4 Main Street in Providence. The gathering will begin at 5 p.m. on Nov. 2. Parking will be available on North Main Street.
A Call to the Community: How You Can Participate
As we prepare for the event, we would like to invite anyone who has lost a loved one this year to help us create a Traveling Puertas Ofrenda. All we ask is that you post a remembrance on the RILA website. The ofrenda will be on display at the Nov. 2 celebration and will then be on permanent display at La Galeria at RILA.
This year's event will be family friendly, including face painting (donations accepted) to help everyone get in the spirit of the day. Children will be invited to create paper flowers for the ofrenda. Families are welcome to bring food and blankets for picnicking.
To share a loved one's memory on the community ofrenda, bring a photo and memento to North Burial Ground beginning at 8 a.m. on Nov. 2. Luminaries are welcome, but please no open flames. The altar will remain in place through Friday, Nov. 11. You do not have to retrieve your items, but please do not leave anything of value, as all items will be disposed of.
A procession, led by a singing Catrina, will begin at 6:30 p.m., and will be joined by a storyteller and a spoken poetry artist. Bring a luminary to carry with you, as the cemetery does not have lighting. The event will conclude with a Second Line procession back to the ofrenda. 
For more information or to volunteer, visit the RILA website or write to Marta V. Martinez at marta@rilatinoarts.org.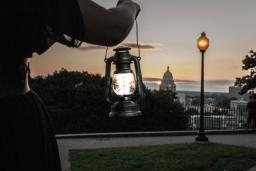 Fall and the Halloween season are upon us, and Providence, RI is brimming with ways... Learn More ›