#StayHomeWaterFire
LIVE Friday, June 12, 2020
Starting at 8 p.m.
Celebrating Educators, Students & Parents
Looking for a relaxing way to spend your Friday night? Order some takeout from your favorite restaurant and tune in to WaterFire's second virtual #StayHomeWaterFire on Friday, June 12, hosted by Ashley Erling, executive producer of "The Rhode Show," and WaterFire's Ed Cabral.
This #StayHomeWaterFire will feature fan-generated videos, messages from the class of 2020, a new COVIDEO TV episode of Big Nazo's "Adventures in Isolation," music by the spirited Extraordinary Rendition Band, and more. 
Honoring educators, students and parents, the evening will include messages from Governor Gina Raimondo, Mayor Jorge Elorza, Rhode Island Commissioner of Education Angélica Infante-Green, and WaterFire Board Director Dr. Barbara Mullen, chief equity and diversity officer for the Providence Public School Department.
"We look forward to celebrating the successes of this very unusual year in education and acknowledging all the hard work on the part of teachers, students and parents during the coronavirus pandemic. Under Governor Raimondo and Commissioner Infante-Green's leadership, Rhode Island stepped up and led the nation in distance learning," Peter A. Mello, WaterFire managing director and CEO, said in a press release.
Check out the live stream of the #StayHomeWaterFire at waterfire.org/stayhome or on WaterFire's Facebook page.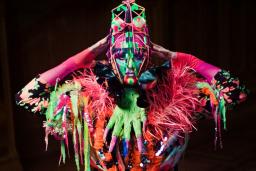 PVDFest, Providence's signature festival celebrating arts, culture, food and more may have... Learn More ›