The sun is shining, temperatures are climbing and flowers (and allergies) are blooming. All signs of a wonderful spring and summer to come. That also means it's almost time for Father's Day celebrations. Now, I love getting homemade things from my kids every year, but there are only so many ties/mugs/"#1 Dad" shirts you can get. Here are a few things you can do with your dad, in and around Providence, that would put those handcrafted items to shame (not really, I love my handprint mug!).
Super Fun Activities Club
I mean, it says it right in the name — Super Fun! Bring your dad over to the Super Fun Activities Club for a round of volleyball or softball. This is perfect for the active dad who wants to get out there more. All games are adult coed social events and there are "after-parties" following the games as well.  
What better gift for your confident father than a day with Confident Captain? Take a sunset tour, a nature tour around Wickford Harbor, or even rent a boat to take out yourself. Tours are 60 minutes long and you can bring the whole family. Or, if your dad wants to BE the captain, sign him up for a boat rental or a class so he can get his skipper skills up to par. Check out their schedule here.
Kayaking, in a city? Yup, that's right. Kayaking isn't only reserved for the babbling brooks of Blackstone Valley anymore. You can enjoy a beautiful kayak tour through the heart of the city with Providence Kayak Company. Book either single or tandem kayaks for 45 or 90 minutes. Or, if you like a little more structure, they also offer guided tours of the river for up to 15 paddlers. 
Want to (try) to beat dad in a race? The one way you might be able to is at R1 Indoor Karting in Lincoln, RI. Race around one of the largest tracks in New England on electric karts that can reach speeds up to 40 mph, all while keeping up with dad. And once you're done with the race, you'll be able to refuel at FUEL restaurant right upstairs with a mouthwatering menu that dad will love. If that isn't enough, head over to Axe Bar for a round of axe throwing. And, what's so great about this highly-competitive day, is that it can all be experienced in one place! 
You know I couldn't leave this off the list. The Rhode Island Brew Bus takes its passengers on a tour (and tastings) of local RI breweries. Hop from brewery to brewery in style and learn along the way. Up to 13 people can fit on the bus, which is also available for private tours. There is one tour on Father's Day, but you can purchase gift cards for a future tour on their website.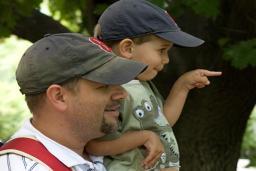 If those family road trips taught us anything, it's that Dads always end up in the driver's... Learn More ›