The sun is shining, temperatures are climbing and flowers (and allergies) are blooming. All signs of a wonderful spring and summer to come. That also means it's almost time for Father's Day celebrations. Now, I love getting handmade things from my kids every year, but there are only so many ties/mugs/"#1 Dad" shirts you can get. Here are a few things you can do with your dad, in and around Providence, that would put those handmade items to shame (not really, I love my hand-print mug!).
I mean, it says it right in the name — Super Fun! Bring your dad over to the Super Fun Activities Club to get into a game of volleyball or softball. This is perfect for the active dad that wants to get out there more. All games are adult coed social events, and there are "after-parties" after the games as well.  
BattlegroundZ
Nothing says happy Father's Day like shooting each other with lasers, paintballs and darts. BattlegroundZ, located in Lincoln, RI, is a 50,000-square-foot building filled with paintball, airsoft and laser tag courses. They even have a huge arcade where you can win prizes. With age minimums starting at 3 years old, there is something for everyone. It's the perfect place to let your dad play out his John Wick fantasies. Just be sure to be on his team!
Dads and golf go together like peanut butter and jelly or clam cakes and honey mustard (hey, don't knock it till you try it). Mulligan's Island is the perfect playground for dad, with their award-winning 60-stall driving range, 9-hole Pitch & Putt course, par-3 executive golf course and, of course, mini-golf. Although I am indeed a dad (times 3), I'm going to stick to the mini-golf course. If golf isn't your thing, they also have a baseball and softball batting cage. And on Father's Day, you'll get in free for a round of mini-golf with a paying child/spouse.
This place is one of my favorites on the list. Base Station VR Lounge is a virtual reality arcade right in the heart of Thayer Street. You and your family can jump into the virtual world and experience any one of their more than 20 different experiences. Games range from easy ones where you may just be exploring a virtual world, to zombie shooters and Spider-Man web slinging. And be sure to maybe do a little stretching beforehand — these games will get you moving!
You know I couldn't leave this off the list. The Rhode Island Brew Bus takes its passengers on a tour (and tastings) of local RI breweries. Hop from brewery to brewery in style and learn along the way. Up to 13 people can fit on the bus, and it is also available for private tours. There is one tour on Father's Day, but you can purchase gift cards for a future tour on their website as well.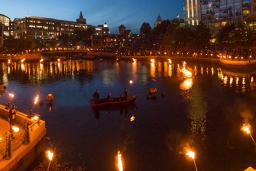 You can travel the globe and never find anything quite like WaterFire . A series of nearly 100 Learn More ›