Since 2014, the Providence Fringe Festival (FringePVD) has been bringing fun, bold and affordable theater to the Providence area. This year, gathering space and group sizes are limited, but thanks to The Wilbury Theatre Group and WaterFire Providence, the 2020 FringePVD will be streaming digitally on both the Wilbury Group's and FringePVD's social media channels, from July 19 until Aug. 1, 2020.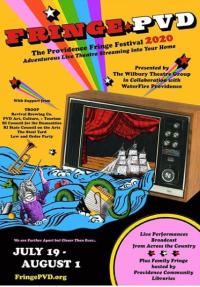 You can also purchase a Digital Fringe Access Pass for just $20 to watch performances and exclusive content whenever you want. All of the proceeds go directly to the performing artists. 
FringePVD will feature 39 performances by groups from all over the country. A schedule of live stream FringePVD performances is available on their website. And for the first time ever, the Providence Community Library will be hosting a Family Fringe Day streamed live from the PCL Facebook page on Saturday, July 25. Family Fringe Day will include storytelling, performances, games and more.
Also check out ...

Just in time for the beginning of summer, the Providence to Newport Ferry returns. Operated by continue reading ›