Graduate Hotels is hard at work revitalizing the famed Biltmore building for our big spring opening. Between now and then, we're inviting the people of Providence in for sneak peeks and special events — starting with a giant, hands-on public art project.
From March 26–28 the hotel mezzanine level is a free paint zone. Come in, grab some art materials on us and paint to your hearts content. The walls are your canvas. Lay down a mural, paint a portrait, make your mark on history. The walls are open to the public Tuesday and Wednesday, 11 a.m.–8 p.m. On Thursday, we'll include free food from local food trucks, including Baby's Bonetown BBQ and Hometown Poke, along with music from 11 a.m.–4 p.m.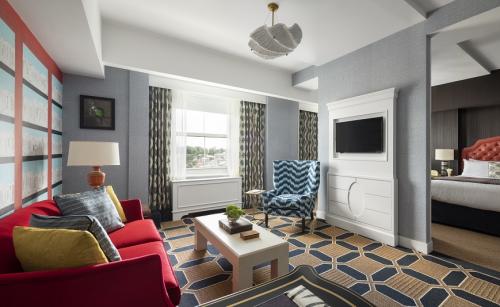 This is just the first of many more things to come from Graduate Hotels. We hope to see you at one of our upcoming Mutt Cutts pop-ups, other special events and, of course, during a stay when you, a friend or family member need a nice place to put your feet up.
This painting event is at the new Graduate Hotel in Providence, in the beautiful Biltmore building at 11 Dorrance Street. We hope to see you there.  
Also check out ...

Vacationing on a budget? The Providence area offers plenty of free activities and events. From family fun to our legendary WaterFire, there are plenty of ways to spend some time without spending a... continue reading ›