People are hitting the streets for Pokémon GO. GoProvidence has joined in on the hunt by launching a blog series to help Pokémon GO gamers navigate Providence. Keep reading for more info ...
If you're looking for Pokémon, there's no better place than Providence! We have tons of PokéStops in a densely packed area. One of the great neighborhoods to stroll around while you're trying to catch 'em all is Federal Hill. 
We took a stroll through Providence's Little Italy and found 15 different PokéStops on a half-mile stretch of road. Even though the walk will only get you about 1 km for your egg incubators, you'll be sure to find some awesome Pokémon. While we were out, we spotted an Abra, Meowth and a Diglett, but we also spotted plenty of the smaller Pokémon like Weedles, Pidgeys and Spearows. 
Being Providence's Little Italy, Federal Hill has plenty of great restaurants and shops that you can stop in on your quest. Grab a bite to eat al fresco on DePasquale Plaza, or throw down a lure at Angelo's and sit back and watch the Pokémon come to you!
Use #PokeGoProv to share some of your rare catches around Providence.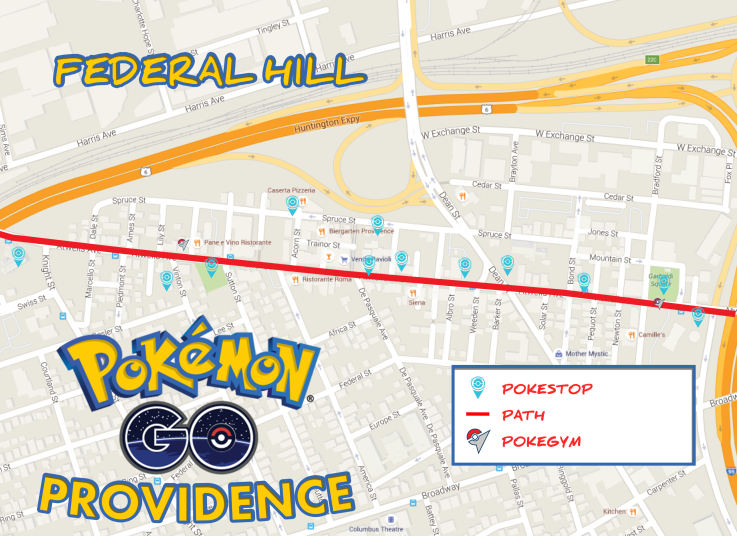 PokéStops
Garibaldi Park 
Festa Italiana Society Monument
Angelo's Restaurant, Wall Mural
Our Lady of Mount Carmel Church Pillar
Bank of America Wall Mural
Gallery Z
Pastiche Fine Desserts
St. John's Park
Brooklyn Pizza Wall Mural
Holy Ghost Church
Raymond Dettore Jr. Memorial, DePasquale Plaza
Cortland Community Garden
India Museum & Heritage Society (58 Tell St.)
John O. Pastore Park
Area Restaurants
Andino's Restaurant
Angelo's Civita Farnese
Biergarten
Bombay Club
Caffe Dolce Vita
Camille's
Capri
Caserta Pizzeria
Cassarino's
Costantino's Venda Bar & Ristorante
Don Jose Tequilas
Federal Taphouse & Kitchen
Joe Marzilli's Old Canteen
Massimo
Nami
Nara
Opa
Pane e Vino
Providence Oyster Bar
Ristorante Roma
Scialo Bros. Bakery
Siena Providence
Trattoria Zooma
Vanuatu Coffee Roasters