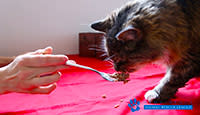 From establishing "barn cat" programs, to finding foster parents for pets, to offering spay and neuter services, the
Providence Animal Rescue League
(PARL) has been taking care of our furriest of friends since 1913.
There's no mistaking the neighborhood where PARL is located. You can easily identify this section of Providence's Jewelry District from the cacophony of
happily barking dogs
, audible from blocks away. Inside, you'll find
volunteers who care
for the varied collection of homeless dogs, cats, rabbits, ferrets, even an occasional snake. And you'll find employees who work diligently to
educate the public
- especially kids - about humane animal treatment, to reduce pet overpopulation with spay and neuter measures, and to find homes for adoptable pets.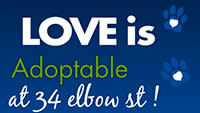 Celebrating a 100th birthday is remarkable, especially considering that PARL gets no state or federal funding. They service 2,000 animals a year
solely on donations
- money and supplies - from animal lovers, businesses and foundations. You won't find a more passionate group of people who believe in what they do. So while we wish their services weren't necessary, we're thankful they're around to celebrate this birthday. Woof!