Whether you own your own business or not, many of us are aware of the challenges of opening one. But those who
have
done it know that it's not so much starting a small business that can be tough - it's keeping it open over time.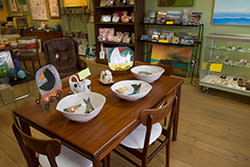 Studio Hop
, on Providence's East Side, is a wonderful example of how Rhode Islanders as a whole support the arts community through the patronage of retail shops that
celebrate local talent
. And why wouldn't it be? Opened in 2000 by husband and wife team Nina and Peter Tegu, Studio Hop is a thriving example of a place -
part gallery, part store
- that educates us about the joys of the aesthetic, and then lets us purchase it!
The Tegus specialize in a little bit of everything: fine art, vintage furniture, jewelry, glass, ceramics, photography, textiles, handbags, skin care products and more. Nina has a sharp eye and an affection for the works of local artisans, and RISD students and grads have proven a rich and varied source for everything from photographs to jewelry. Peter, himself a furniture-maker, is inspired by everything from Victorian to mid-century modern, and the shop's eclectic collection shows that he, too, is well-versed in beauty and style. The Tegus' collection is very local, but also spans the globe. The only criteria is that an item has to be
unusual, well-crafted, and inspirational
.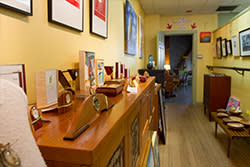 Studio Hop is truly a family affair - the shop was named by the Tegus' son Eli when he was a toddler. To his parents, the space was
part studio, part shop
... hence "Studio Hop." The name stuck, and gratefully, so has the store, a shining example of what we, as Rhode Islanders, do well.