What is it about ice skating that seems so magical and romantic? It's the most popular sport in the Winter Olympics, garnering more viewers than other sports combined. We've all ventured to Rockefeller Center during the winter to see ice skaters glide and twirl and, well, occasionally, fall on their rears.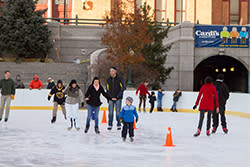 Ice skating can be a perilous activity for the uncoordinated. And yet we love it. Maybe it's something akin to flying - so graceful and light, and freeing for both practiced participants and observers. Almost a million people have skated here since The Providence Rink opened in 1998.

If you skate, let's go. If you don't skate, let's go. The Providence Rink at the Bank of America City Center in Kennedy Plaza has 14,000 square feet of ice - that's twice the size of that dinky rink in Manhattan. So no excuses. The Providence Rink is a romantic, fun landmark that you really need to take advantage of. They offer lessons, too, and you can rent skates right there. And yes, there's a waist-level partition that you can hold onto the entire time, until you get the hang of it.

There's no more joyous activity for you and yours. So get to it: glide, twirl, fly.

Hours of operation are Monday through Friday, 10 a.m. - 10 p.m., and Saturday and Sunday, 11 a.m. - 10 p.m.

Watch below for some helpful tips on skating with Wendy Whitman of the Warwick Figure Skaters along with the PWCVB's Brian Hodge.