Sometimes a box is a bridge; Giving Beyond the Box and the partnership that brought Hope Springs Back to life.
We are delighted to announce Hope Springs Back: A Cool Collection from The Creative Capital, the newest box from Giving Beyond the Box.
Giving Beyond the Box curates gift boxes that give back to and support communities. We launched this company in late 2019, just a few months after my 70th birthday and just a few months shy of the pandemic lockdown. Over our short history, we have released more than 10 boxes and sold hundreds to customers who want to give a gift that does good in our community and beyond. 
The Hope Springs Back box brings together Providence-based artists and arts organizations in a collection that benefits the Rhode Island Artists Relief Fund. We are featuring some one-of-a-kind items in our boxes and each contains an array of great products from local artists (as well as toys and games for the kids, and special treats for the adults).
This marks the first time that we've partnered with two other organizations to envision a box. Our partners, the Providence Warwick Convention & Visitors Bureau and the Providence Mayor's Office of Art, Culture + Tourism, have been wonderful to work with.
Providence is blessed with amazing artists and arts organizations, and it's safe to say that those represented in our box are a small fraction of the talent in our wonderful city. In fact, so many artists and cultural organizations could hardly fit into such a little box!
We are making a limited first edition of 100 boxes and aim to feature other artists, makers and organizations in later editions.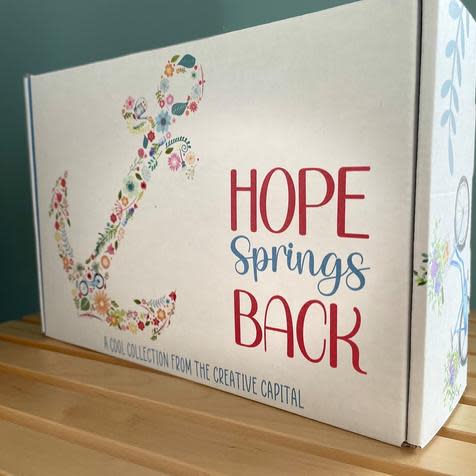 The Hope Springs Back box launches in late July, with online ordering starting July 30 on the Giving Beyond the Box website. There you will also find descriptions of the artists and organizations included in the box.
Boxes will be shipped and available for pickup at the wonderful Frog & Toad gift shop in Providence. You can also see samples of our boxes at the Providence Pop-Up Visitors Center located at 233 Westminster St.