If there is one thing Providence is known for, it's Halloween. From Ghost Tours to the Jack-O-Lantern Spectacular, the Creative Capital surely lives up to its name with a new mystery-themed event this Halloween.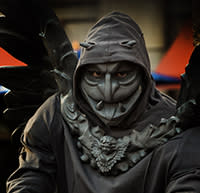 Come delve deeper into the intrigue at Mysterium - The Eternal Masquerade, held Halloween night. Take a journey through every nook and cranny in the Providence Public Library, venture into rooms you have never seen before and collect clues to help you solve the night's mystery. After your suspenseful expedition has come to an end and you find yourself hungry, reward your bravery with some of Providence's signature foods and TEN31's awe-inspiring interactive performances. At 10:31 p.m., when all performances end, the dancing will begin and dessert will be served. The night's fun will end at midnight.

Costumes are not required, but black and white dress is strongly recommended and you will receive your very own masquerade mask upon arriving.

Doors open at 7:30 p.m. and the interactive performances will begin at 8 p.m. Admission is $125.