Marc Allen's number one rule — trust your instincts and wear clothing that you are comfortable in. Your personal style should only enhance you. Your style should NEVER be forced.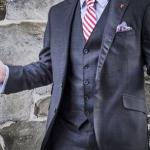 That being said … phenomenal suiting and appropriate tailoring can and will do wonders for your looks. If new to suiting, or just starting fresh, go with neutrals and dusty powder hues for day and darker suiting for night events. Blazers in classic colors are a great jumping off point, which can be enhanced by pops of color. Keep your trousers fitted and go for a more dimensional shirt to layer and give everyone a sense of who you are.

It's hard to believe gentlemen, but … ladies look at your shoes. Shoe contact before eye contact will happen in today's world. Your taste in shoes speaks volumes about your personal style. A great pair of loafers, oxfords or derbies will only enhance your appearance. Keep the toe box elongated because it is universally flattering and make sure to pick the more slender styles which won't disrupt your new streamlined look.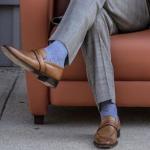 Today, ties are not always necessary but they can add a little flare to any look. Textured ties, like knit styles, are a great way to accessorize without looking too corporate. Be youthful and have fun with subtle patterns and colors.

Most importantly, be you. Personal touches show your individuality. Grab an interesting pocket square to add a focal point and color, or throw on a great watch and belt to show your attention to detail.