"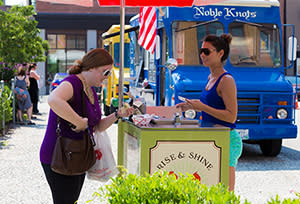 This is just so wonderful," says a customer at Ellie's Bakery's new macaron cart, biting into a beautiful, pastel, lemon-basil macaron ice cream sandwich. "I mean, this tastes wonderful ... but this little cart ... it's so divine." Divine indeed. There's something nostalgic about this idea - these veritable moveable feasts of delicious treats made portable by a wooden cart, or in Ellie's Bakery's case, a bicycle. Maybe it's the random chance we'll come upon them in our mundane daily travels and get to indulge. Or maybe it's that they are reminiscent of a simpler time,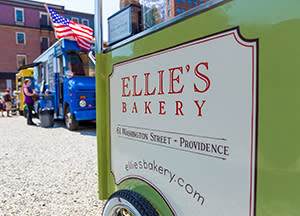 when the ice cream man's bell would send us running for dimes in anticipation of a Hoodsie Cup or a Popsicle.

We're delighted by the resurgence of food carts in Providence. Simpler than even a food truck, they offer lobster rolls, hot dogs and sweets to us without even having to open a door. They allow us to treat ourselves when we don't have minutes to spare. In Providence, Chef Matt Gennuso of Chez Pascal reignited the centuries-old concept several years ago with his Hope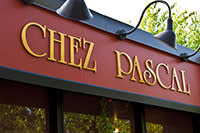 Street hot dog cart, which features haut dogs and house-made condiments. Next door is Cook & Browns' Salt Cove lobster roll cart which Chef Nemo Bolin debuted this summer as an homage to our favorite summertime sandwich. And now there's Ellie's, the brainchild of Ellen Gracyalny of Gracie's restaurant.

We're constantly delighted by the entrepreneurial spirit exhibited in Rhode Island on a daily basis, especially when it comes to our chefs and restaurateurs. Seemingly simple efforts at promoting and growing their businesses add charm and color to the fabric of our city, helping ever-so-slightly to define this place we call home.