You're in luck if you looked at this year's WaterFire calendar and didn't see a date you could attend — they just added another one!
On Saturday, August 25, there will be a full lighting sponsored by the Providence Tourism Council. This brings the total number of WaterFire events this year up to 11, including full and basin lightings. 
For more information about WaterFire and to check out the full WaterFire schedule, visit our WaterFire page here.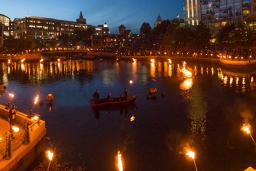 You can travel the globe and never find anything quite like WaterFire. A series of nearly 100... Learn More ›