August already?! All this summer rain better mean we aren't throwing around the four-letter "s" word this winter. Rain or shine, there's still plenty of summer fun left to be had and conventions to welcome! Now, let's take a look at what's happening at the PWCVB and with you, our partners.
PWCVB UPDATES

There was plenty going on with the PWCVB team last month, from another successful Providence Restaurant Weeks featuring more than 40 restaurants, to hosting our first in-person member meeting in more than a year at the Rooftop at the Providence G, and lots more in between!
Through an exciting partnership with Rhode Island Commerce, we launched the GoProvidence Pass promotion where guests who book and stay at participating Providence hotels receive a free $100 Visa Reward card. Those cards can be used at more than 80 participating businesses throughout the city and are a way to help boost small businesses.
Another fun promotion launched last month was in collaboration with the City of Providence and Giving Beyond the Box, a local business that curates themed gift boxes delivered right to your door. The Hope Strikes Back box features works from 18 Providence artists and organizations, and proceeds from sales will be donated to the Rhode Island Artists Relief Fund. You can learn more about the box and how to order your own from our guest blog by Sandra Enos.
This summer's GoProvidence Visitors Guide is hot off the presses and copies are available throughout the city. We printed a limited number this summer, but the guide's always available digitally here.
John Palumbo, president and publisher of Rhode Island Monthly Communications, Inc., retained his board seat following last month's election. Congratulations John and thank you to all those who ran!
Summer dates for "The Rhode Show" Monday morning cooking segment are still available for PWCVB members. Secure your spot now or email Marketing & Communications Manager Greg Desrosiers for more information or to be added to the "on-call list" in the event of a sudden cancellation.
Please make sure to add any events or promotions to our online calendar. If you have any questions or difficulties, please reach out to Digital Media Manager Nick Millard.
PARTNER NEWS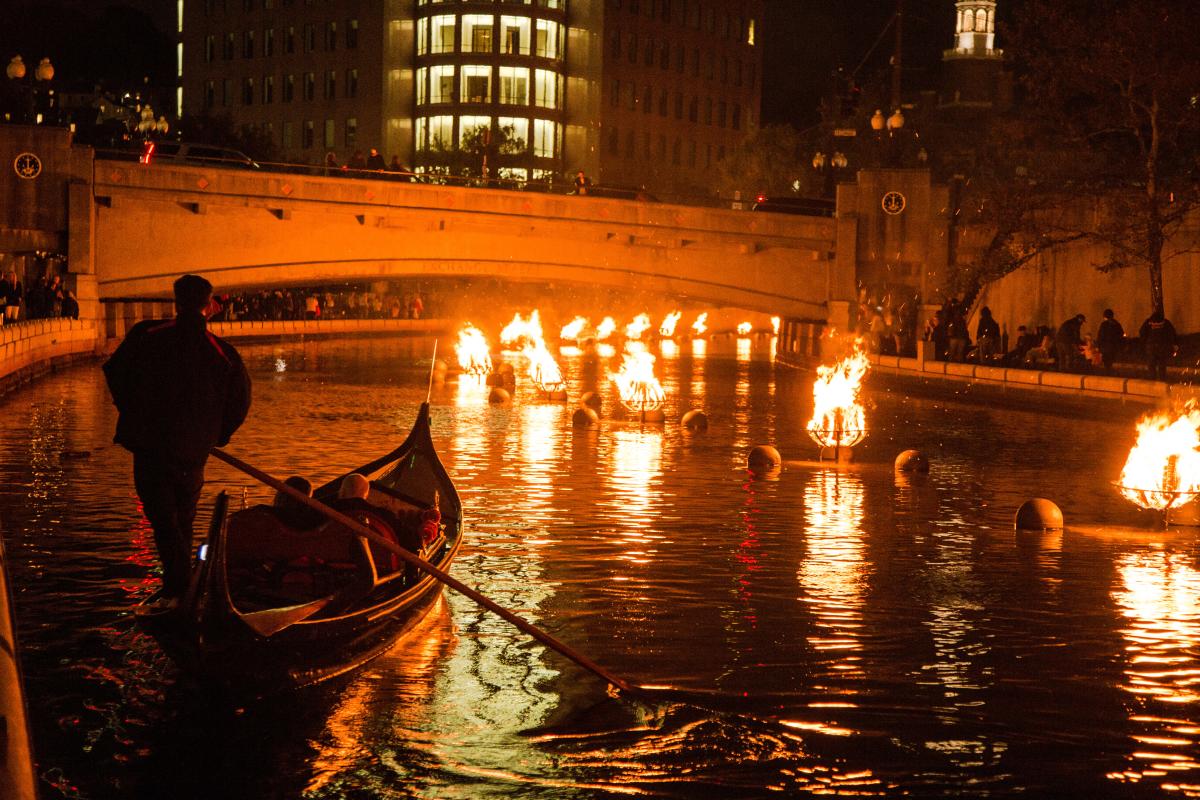 Mark your calendars! WaterFire announced the dates for their 2021 lightings last month. Nine lightings are scheduled between Sept. 4 and Dec. 4, featuring four full lightings and five partial lightings. Check out our WaterFire schedule for all the dates.
The RISD Museum reopened in June and there are some fantastic exhibitions on display, including "Any distance between us." The current hours are Wed., Sat. and Sun., 10 a.m.–5 p.m., and Thurs. and Fri., 12–7 p.m. Even better, admission is free after 5 p.m., making it a perfect before or after dinner stop on Thursdays or Fridays!
Did you catch this awesome story about the Steel Yard in The Providence Journal? Their artists have crafted 30 sculptures of make-believe woodland creatures that have been scattered across the Aquidneck Land Trust trails. Trail-goers are encouraged to seek out each sculpture and take a selfie.
Though they've been open throughout the summer, Narragansett Brewing celebrated their "official" grand opening weekend this past weekend. If you haven't stopped by yet, you're missing out on some tasty new beers and great views of India Point Park.
Rhode Island T.F. Green International Airport welcomed the first Breeze Airways flight from Charleston, SC with a grand reception. Breeze currently offers direct service to and from Charleston, SC, Norfolk, VA, and Pittsburgh, PA.
SALES & SERVICES SPOTLIGHT
JLC LIVE returns to Providence this week for the 25th year and marks the first live, in-person event at the Rhode Island Convention Center since March 2020. We're excited to welcome live events back to the city and are starting strong with an expected 4,000 attendees utilizing nearly 1,300 hotel room nights and generating an estimated $1.2 million in direct spending.
The PWCVB sales team bid good riddance to FY21 and enthusiastically welcomed FY 22on July 1 by adding more than 30 new leads to the sales funnel. New leads in July account for more than 25,000 potential new room nights in late 2021, 2022 and 2023.
The PWCVB sales and service team, along with colleagues from Madison, WI, and Albuquerque, NM, hosted 65 customers on a virtual panel discussion regarding the re-emergence of downtown areas following COVID-19. Kristen Adamo, PWCVB president and CEO, and Cliff Wood, executive director of the Providence Foundation, were panelists representing Providence.
In July the PWCVB sales team returned to face-to-face trade shows with their first outing in Reston, VA, targeting the D.C. area planner community. In September, they'll be in New York, followed by Boston in October. They're currently planning to participate in 17 trade shows this fiscal year.
Finally, we opened a temporary pop-up Visitor Center on Westminster Street in July. More than 100 visitors have come through the doors looking for recommendations on what to do while in the city, including some international travelers. Pop-up vendors have also been sharing space with us. The Visitor Center at the RICC will resume operation on Aug. 12. 
IN THE NEWS

There's a lot of great news in the press about Providence and our destination in general. Check out some recent headlines below:  
"Best Places To Travel in October" — Travel + Leisure
"What To Do in Providence, the New Cultural Hub of New England" — Condé Nast Traveler
"How Do Cities Bring Back Tourism?" — Worth
"'GMA' Explores Rhode Island as the State Reopens After the Pandemic" — Good Morning America
"The 8 Best Day Trips From Boston" — Lonely Planet
"Top Romantic Getaways in Rhode Island" — Getaway Mavens
"20 Underrated U.S. Travel Destinations" — TravelPulse
"A World Tour of Shepard Fairey's 'Street Artivism' Murals, From Paris to Providence" — Inside Hook