Pokémon GO is kind of a big deal. So, GoProvidence is joining in on the hunt by launching a blog series to help Pokémon GO gamers navigate Providence. Keep reading for more info ...
The RiverWalk is a great place to catch any Water-type Pokémon. The full walk goes from Providence Place at Francis Street, all the way down to South Water Street.
Along the way you'll catch plenty of Pokémon, from the ever-annoying Magikarp (still working on getting 101) to Goldeen and Poliwag. We even spotted a Dratini out on the waters. Be sure to check out all of the PokéStops below to pick up some gear along the way.
If you're lucky enough to come to Providence on a WaterFire weekend, you'll be able to travel this path lit up by nearly 100 blazing bonfires. Who knows, maybe a Dragonite will appear near the flames!
Completing a circuit of the RiverWalk path is around 2 miles, or about 3.2 km so make sure you pop on those egg incubators!
Use #PokeGoProv to share some of your rare catches around Providence. Next up ... Federal Hill!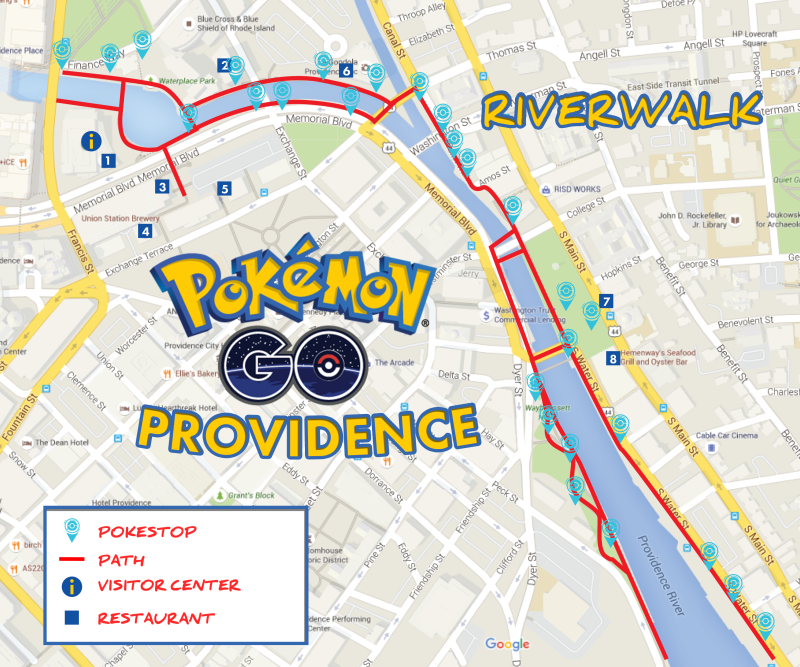 PokéStops
Dr. Martin Luther King Jr. Bridge
Hope River Marker
Waterplace and Providence River Park Dedication Plaque
Waterplace Bridge
Exchange Street Bridge
"Drunken Staircase"
Providence River Park
Providence Gondola Landing
One Citizens Plaza Fountains
Steeple Street Historical Map Pillar
Ceramic Tile Pillar Gazebo
Hurricane Flood Water Marking
Kira Fischer Memorial
Burning of the British Taxed Tea
Historic Victor Stanley Bench
World War II Memorial
The Old Harbor
The Robert E. Rowan Bridge
River Relocation Project
Ship Wall Art
The Fountain at the Compassionate Friends Garden
Broken Heart Stone
The Butterfly Path
Planet St.
Providence (Water Street)
Archway Sculpture
Famine Statue
Restaurants
LUXE Burger Bar
Bar Louie


via GIPHY