As if we needed
more reasons to love Providence
, here's another. Recently,
Travel + Leisure
posted an article titled "
America's Most & Least Attractive People
." Lo and behold, Providence ranked as the
number two most attractive city
in the United States. There are a plethora of reasons why we're ranked #2; as
Travel + Leisure
says ..."the nerd factor can translate into sex appeal." With such a great college population, the young sophisticated folk that fill our streets are certainly not hard to look at. From College Hill to the Financial District, morning or night, sun or snow, you are bound to find some sort of eye candy that will have you either walking into a street sign or driving head on into that pothole!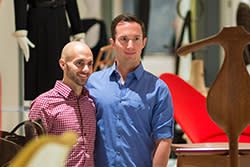 The vast gay population in the city surely does not hurt our chances of ranking in the top either. Combine amazing restaurants, fantastic art and museums as well as some of the
best gay nightlife
New England has to offer, and there's no reason why we shouldn't be one of the most attractive cities in all the land. (Providence ranked as the
4th best "Gay-Friendly" city
in the same
T+L
survey.) In addition, now that gay marriage has been legalized, LGBT couples from all over are moving to this great city of ours and calling it home. If love doesn't spell "attractive," then I don't know what does!