Saturday at PVDFest is a not-to-be-missed experience, with a full day of excitement happening on 18 stages throughout downtown Providence. Festival founding partner FirstWorks has organized performances and spectacles from around the world, with world-class artists representing six continents, including Spain's flamenco diva Buika, Truck Art from Pakistan and local favorites like Big Nazo.
There are more than 100 performances on Saturday alone, but here are just a few special highlights:
Kennedy Plaza will be transformed from a transportation hub to a Food Village, featuring more than 20 food trucks and more than 20 restaurants set up in the plaza with delicious offerings. You'll find everything from Rhode Island favorites to international delights.
The Mini Maker Faire returns to PVDFest with some of the region's most creative artists, designers, crafters and mad scientists selling their wares and demonstrating their skills. This year PVDFest is also introducing a Family Maker Faire aimed at younger kids and families.
Dorrance Street will turn into a 90s-themed bumper car track at the city's first-ever Bump 'n' Bass Raceway.
Australia's Sway Poles will bring us Tall Tales of the High Seas, a fantastic high-flying acrobatic voyage aboard a vessel that pitches and rolls above the crowd. 
LADAMA is a supergroup featuring female musicians from four nations: Brazil, Colombia, Venezuela and the United States. With a contemporary take on traditional Latin American sounds, the band's debut album was hailed by NPR as "extraordinary."
You can join in the magic when legendary movement illusionists Pilobolus presents The Umbrella Project, in three unique nighttime performances! Volunteers carrying illuminated umbrellas come together in various forms as people move through the outdoor space.
Hip-hop power duo Riders Against The Storm are an Austin couple with Providence roots, and their performance is one of the festival's most highly anticipated moments.
No matter what time you arrive at PVDFest, downtown Providence will be filled with amazing sights, fantastic sounds and delicious food aromas.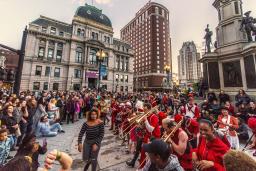 Running June 7–10, PVDFest is a four-day celebration taking over the streets of Providence.... Learn More ›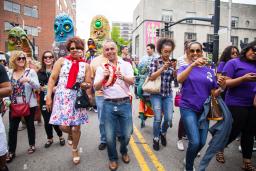 Providence's signature art festival, PVDFest, returns to the city for the fourth edition June... Learn More ›