Saul Kaplan is the founder of the Business Innovation Factory (BIF), a conference and "platform for transforming our most intractable systems like healthcare, education, entrepreneurship, and energy." BIF recently held its ninth conference here in Providence and we exchanged emails with Saul to find out more about the meeting, see what the future holds for both business and the BIF conference, and learn how we can incorporate his exciting ideas into our everyday lives.
Brian Hodge: How did the Business Innovation Factory come about?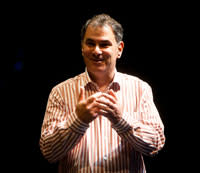 Saul Kaplan: I founded BIF during my time as an accidental bureaucrat as the Executive Director of RIEDC. We launched the non-profit organization as part of our effort to increase Rhode Island's focus and capacity for innovation and entrepreneurship.
BIF's mission now expands nationally and globally enabling leaders to design and test new business models in areas of high social importance including education, health care and government. We believe that tweaks are not enough, the 21st century screams for transformation.
BIF is building a community of innovators and the tools to do ongoing business model and social system experimentation. Every year we host a Collaborative Innovation Summit at Trinity Rep which brings our community together to connect, inspire and transform. We just had BIF9 and you can check out the
amazing stories here
. 
BH: Now just completing its ninth iteration, how has the response been? How has it evolved?
SK: BIF summits are more community than event. Over 450 innovators inspired each other and thousands of others who connected online to learn how to transform ourselves, our organizations and our communities. It was inspiring and the conversations and collaborations continue well after the summit is over.  
The secret of the summit is to trust the participants and not to prescribe themes. We believe in enabling random collisions of unusual suspects. We create the conditions and trust our community to come up with compelling ideas, patterns and themes that emerge every year.
It is inspiring to catalyze and I look forward to it every year. I can't believe that next year we will celebrate BIF10 on September 17-18, 2014.  
BH: What are some of its successes to date?
SK: The most important successes come from the thousands of random collisions we have catalyzed throughout our community over the years. We see it every day firsthand in the work going on in BIF's Student, Patient and Citizen Experience Labs. This is where we do our project work that benefits from the connections, ideas and tools emerging from our summits. We are currently working on a collaboration with Dallas Children's Hospital to design, prototype and test a new wellness based primary care model.
We have an exciting project with Cincinnati Children's Hospital to use human centered design to change our approach to lowering preterm birthrates in urban areas. We are exploring new approaches to connected aging thanks to a grant from the Robert Wood Johnson Foundation.
And right here in Rhode Island we are partnering with Education Commissioner Deborah Gist on an effort called Student Design for School (SD4S) to enable students from across the state to design their own school, one they would be more committed to and engaged in.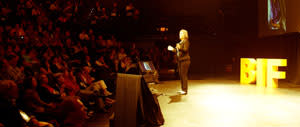 BH: In the past, you've said Rhode Island can better use its small size to its advantage. What do you mean by this, and how can it be done?
SK: Rhode Island's size is its ruby slippers. In an economy driven by innovation and entrepreneurship being small is an advantage. If you're small you have no choice but to be good! It should be easier to get ideas off the white board and on to the ground here in Rhode Island. Everyone knows everyone else. It should be easier to connect and recombine the parts to experiment with new and better ways to deliver value and solve problems. We should be leading the country in designing, prototyping and testing new health care, education and government solutions.  If we try to compete the same way as everyone else we will lose. We have to be about innovation.
Of course being small is a double-edged sword. Existing players and institutions will always try to prevent any change that will affect them. We need more public and private sector leaders that will leverage our size advantage and enable more business model and social system experimentation. We need to turn Rhode Island into an innovation hotspot. 
BH: What is one take-away from BIF 9 that especially made you take note?
SK: There were so many but one idea that really had a personal impact was shared by Carl Stormer who told us the story about his wife's recovery from a stroke. She said, "control is for beginners." We tend to be most comfortable when we feel in control yet the most important personal learning and growth happens when we are not in control and don't feel comfortable. Carl demonstrated the lessons of jazz where the most compelling music happens when musicians don't individually control the process or outcomes. Innovation is a team sport. It will require all of us to build more collaboration muscle.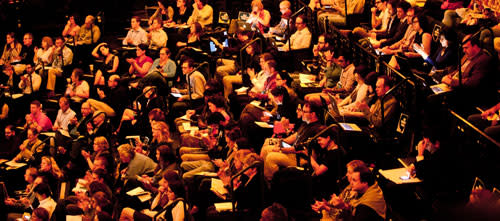 BH: How can people utilize some of BIF's principles in their day-to-day life, even if they work in more traditional jobs?
SK: BIF's community of innovation junkies share a common set of principles, we call it the BIF Genome. These are the 15 principles or characteristics of people and organizations that are business model innovators, that have been successful at reinventing themselves, their organizations and their communities.  They are principles that we can all relate to and experiment with. Sometimes we get so busy pedaling the bicycle of our current business models that we don't carve out the time to explore new ones. In the 21st century we don't have that luxury. Business models or the way things work today don't last as long as they used to. To stay relevant in a changing world we will have to get better at transformation. Tweaks aren't good enough. 
BH: What's the future for BIF and how can people get involved?
SK: BIF's goal is to influence and enable transformation of our important social systems. We are just getting started! Our community is growing and getting more engaged. All innovators are welcome. Join our innovation conversation online and come to BIF10. Organizations can also become a BIF Member or sponsor work in one of our Experience Labs. Come on in, the water is fine!  
--
A big thank you to Saul Kaplan for his time. You can follow him on Twitter @skap5.
For more information on the Business Information Factory, be sure to visit them on the web here.