The 65th Annual Rhode Island Home Show returns to the Rhode Island Convention Center March 5th to the 8th. This year's show features a tour of a 200-square foot Tiny House, a seven-room interior design showcase, three walkable landscapes, a complete outdoor kitchen, an Energy Expo, seminars, a Lego® brick building contest for kids, and many new and inspiring attractions! The show is expected to draw more than 20,000 people, who will experience and explore the largest and longest running exhibition of its kind in Southern New England.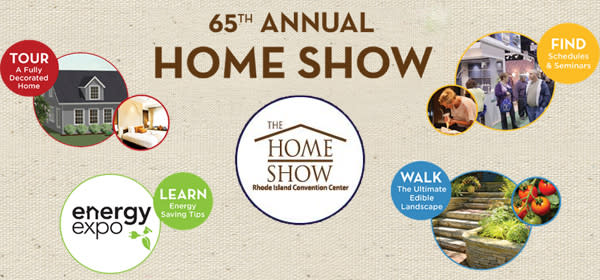 The Show is divided into four thematic areas: Tour, Walk, Find and Learn. The Tour aspect of the show will feature two amazing home showcases, one featuring a full-sized, seven-room home showcase and the other showing a 200-square foot "Tiny House." Visitors may also explore beautiful-yet-practical landscapes, gardens, and outdoor living areas in the Walk area of the show. In the Find area, hundreds of related services, new products, contractors, and more will be exhibiting what they have to offer. In the Learn area, the RI Home Show will feature an Energy Expo, which includes cutting-edge energy saving solutions and money saving tips that will most certainly improve the comfort of your home.

New this year is a LEGO® Brick Building Contest. Participating children will have one hour to assemble hundreds of LEGO® bricks into whatever their minds can create. Additionally, there will be World Record Balloon artist Lon Cerel and other activities and giveaways for the kids. Children under 15 will receive free admission to the show. For information, tickets, and a full schedule of the show, visit RIBAHomeShow.com.