GoProvidence.com and the Providence Journal bring you Small Bites: Easy-to-Digest Recipes. It's been a long and interesting road that led chef Jason Timothy to his success at Troop. The Johnson & Wales University alum is almost too busy to enjoy it.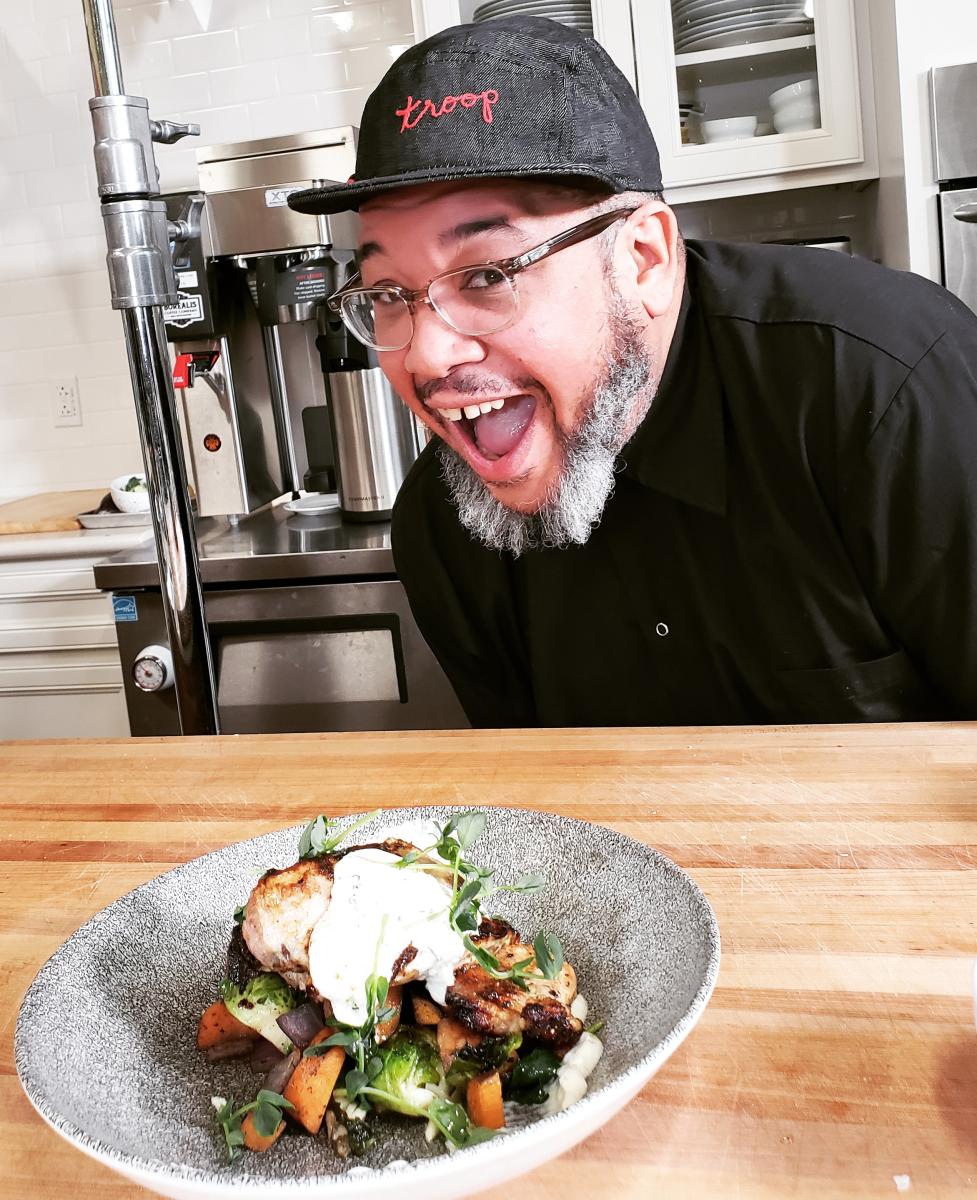 If you haven't been, Troop is truly unique among Providence restaurants. And that is a good thing. With an homage to '90s hip-hop and skateboarding culture, including murals, boomboxes and so much more, the food is comforting and clever. You could even find yourself playing Bingo at the bar. 
Troop has a Kyla Coburn design that will demand your attention and keep you talking about it later. In November, it made Architectural Digest's list of "The Most Beautifully Designed Bars in Each State in America." "With edgy murals, tropical potted plants, hanging rattan chairs, and mid-century-style chandeliers, Providence's artsy culture extends to this bar," the magazine wrote about Troop.
But today we celebrate Timothy for his inspired cooking as the chef behind the most recent Small Bites cooking video. If you want to cook like Timothy, start with his chicken dish inspired by the flavors of Lebanon. Take a Mediterranean approach and marinate the meat with a yogurt-based mixture. Make enough of it and you can use it as a topping on the chicken. This meal includes roasted vegetables that can be on the table in no time. Check out the video and full recipe below:
 Lebanese Chicken with Roasted Vegetables
- 1 cup yogurt
- 1/4 cup lemon juice
- 5 cloves garlic, divided use
- 1/4 cup mint, chiffonade
- Salt and pepper
- 4 boneless chicken thighs, cleaned off the bone, split
- 1 medium sweet potato, diced
- 1 medium carrot, diced
- 1 cup Brussels sprouts, halved
- 1/4 cup herbs (parsley and thyme), chopped
- 1 red onion, diced
- Olive oil
- White vinegar, to taste
- 1 tablespoon cumin
Mix the yogurt with the lemon juice. Add one chopped garlic clove and the mint. Mix well, season with salt and pepper. Set aside.
Clean the thighs of any fat. Split in half, place in a mixing bowl and add about a 1/2 cup of the mint yogurt. Mix until thoroughly coated, set aside. For best results, let marinate anywhere from an hour to overnight.
Grill or roast the chicken. Chef prefers grilling but said pan roasted is just as good. To pan roast, put a little oil in a pan and sear well on one side. Flip and place in a 350 degree oven for 8–10 minutes.
Meanwhile, sauté your vegetables, starting with the carrots and sweet potato. Once they start to feel a little tender, add the Brussels sprouts, onion and four cloves smashed garlic, season with salt and pepper, and cumin and finish in a 350 degree oven for 6–10 minutes, finish with herbs and then set aside.
To assemble, place some of the vegetables on the plate and then top with the chicken. You can either serve the mint yogurt on the side or on the chicken.
Crack open your favorite beverage of choice and enjoy.