If you're traveling around Providence and looking for a great spot to have a drink, chow down and watch the game, be sure to check out some of the city's best sports bars. With an array of menus, TVs, and amenities, these restaurants are top picks in your game day plans.

GPub: 61 Orange Street; enjoy a fantastic mix of traditional pub favorites and modern gastropub fares. Play pool, enjoy trivia night, and catch the game on one of their multiple TVs.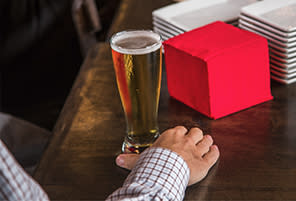 LUXE Burger Bar: 5 Memorial Boulevard; build your own burger, grab a hard shake, and watch that night's game at the bar.

Rick's Roadhouse: 370 Richmond Street; authentic barbeque, fall-off-the-bone ribs, ice-cold drinks, and a burger bar. What's not to love?

Snooker's Sports, Billiards, Bar & Grill: 53 Ashburn Street; play pool, enjoy trivia night, watch the game, and enter to win tickets to a New England home game.

Whiskey Republic: 515 South Water Street; Whiskey Republic is where food, spirits, music, and sports come together to coexist. With more than 20 HDTVs, it's the perfect place to catch the game.
 
With tons of fantastic restaurants in Providence, no matter where you end up, you're hitting a sweet spot. Even if you're not rooting for New England (but, why wouldn't you? Why deprive yourself of rooting for a winning team?), you'll be able to check out your favorite team.

If you love where you're enjoying a game and a bite and want to share it with America's #1 City, be sure to tweet us a pic at @ProvidenceRI. We want to see where everyone is having fun around Providence.