Warm weather, flowers and chirping birds are right around the corner. Get a jump start on spring on Friday, March 30, when Providence Children's Museum will host Farm Friends in the Children's Garden from 1–3 p.m. Families will meet Rhode Island farmers, community growers and 4-H Club members, see and hold bunnies and guinea pigs, and also participate in hands-on activities like yarn-spinning and gardening. 
Last year's Farm Friends was a wonderful experience, with families feeding sheep, goats, pigs, bunnies and guinea pigs. This year, the museum decided to make the event even more impactful, adding fun educational activities, which focus on the importance of farmers, community growers and 4-H Club members, who grow the food we eat each day.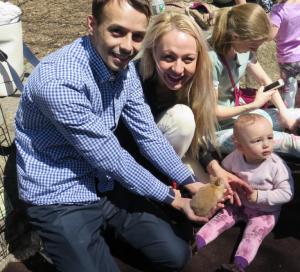 Kids and their caregivers will learn what goes into growing the different vegetables that decorate their dinner table, and may be inspired to test what they've learned and grow their own this summer. Kids will also have the opportunity to try yarn-spinning, learning how scarves and mittens are created, and make their own projects to take home.  
Have some outdoor family fun at Providence Children's Museum and celebrate the return of spring! 
Visit childrenmuseum.org for a full calendar of events.