My first experience with the Arcade, the centuries old shopping center in downtown Providence, was more than a bit dizzying. I remember my head spinning - a combination of too much Italian soda and the maze-like multilevel layout.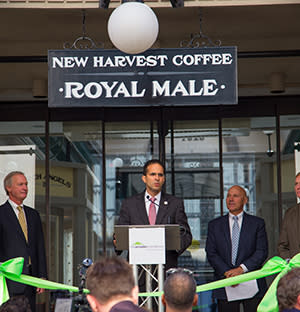 On subsequent visits more than a decade later, many of the shops had been subbed for low-key eateries, a smorgasbord of pita pockets, hot weiners, and Chinese food. The building was then shuttered for years of renovation and reinvention.
Today, the ribbon was cut on a new Arcade, featuring more than a dozen hand-selected shops (11 of which are open as of writing), three restaurants (including hyper-local Rogue Island and beloved coffee roaster New Harvest), and two floors of 'micro-loft' living spaces. The shops are all unique, the eateries expertly selected, and there is a lengthy waiting list for the lofts.
The building is shining, reflective of the time and resources owner Evan Granoff has poured into the project. With such a vital shopping destination re-opened in downtown Providence, now my head is just spinning with the possibilities. 
For more information on the Arcade Providence, visit them here.