The Wilbury Theatre Group and WaterFire Providence are teaming up this October to present "Fire Flowers and a Time Machine (Flores de Fuego y una Máquina del Tiempo)," a bilingual performance event directed by Shey Rivera Rios. This is the second such collaboration this year to offer live theater performances in a safe outdoor setting.
The show runs now through October 17, Thursdays through Saturdays, starting at 6:30 p.m. Tickets are just $20 and must be purchased online at least one hour before showtime. No walk-up tickets will be available at the door.
A journey through time and space, "Fire Flowers and a Time Machine (Flores de Fuego y una Máquina del Tiempo)" puts audiences in touch with ancestors from the past and our future descendants. Together these guides bring forth knowledge and magic through a story that weaves monologues, poetry, dance and ritual. The production features work developed and performed by Sussy Santana, Saúl Ramos Espola, Maritza Martell, Becci Davis, April Brown, Lilly E. Manycolors, Laura Lamb Brown-Lavoie, Matt Garza, Gina Rodríguez-Drix, Octavia Chavez-Richmond, Eli Nixon, Janaya Kizzie and Rachel Hughes.
In this production, the audience is divided into four separate groups of 10 to 20 people who will remain properly distanced from each other and the performers. Performances are presented in Spanish and English through the use of translation, projected subtitles, or bilingual performers. All the performances are presented outdoors on five stages and performance areas on the spacious grounds of the WaterFire Arts Center and the historic American Locomotive Company building.
All performances will be held rain or shine, so pack a rain jacket or umbrella just in case. Face coverings must be worn at all times and social distancing guidelines will be strictly enforced.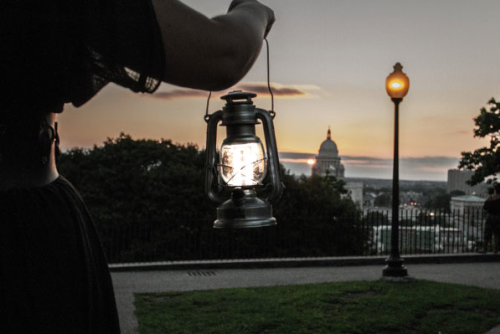 Fall and the Halloween season are upon us, and Providence, RI is brimming with ways... Learn More ›