Providence Restaurant Weeks is not for the idle. You can't just look at the list once, make your plans, and then dig in. There's always a new participant or a new menu added. Here's who recently joined Providence Restaurant Weeks.
A taste of Mexico on Federal Hill, Don Jose's Restaurant Weeks menu is ample and they are participating in both lunch and dinner. Don't miss their Bistec a la Mexicana, a grilled skirt steak served with peppers, onions, tomatoes and mild guajillo sauce or tortilla soup, shown above.
Chef Granata, a legend on the Providence restaurant scene, might have decamped to East Greenwich but he hasn't lost any of his flair or flavor. A great example? The Pistachio-Crusted Salmon over whipped potatoes and rabe or Johnny's Meatball, shown above, both on the Johnny Granata's Restaurant & Bar Restaurant Weeks menu.
You've read about it, now try it for yourself. Executive Chef Ben Sukle has been turning out perfectly crafted dishes to national acclaim. For a lovely winter treat, try the Roasted Bone-in Fluke with spinach, sweet potato, heirloom beans and salsa verde, but that's not all they are offering. Check out the Oberlin Restaurant Weeks menu.
One of Warwick's loveliest restaurants offers comfort food with an upscale twist. Bacon-Infused Meatloaf with roasted carrots, green beans, mashed potatoes, fried onion strings and traditional brown gravy is the perfect antidote for winter weariness. They are offering lunch and dinner. View the entire Iron Work's Restaurant Weeks menu here.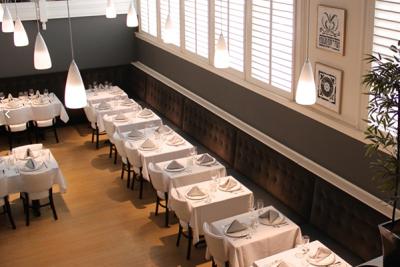 One of Providence's coolest restaurants has one of the hottest Restaurant Week menus. Their Butternut Squash Soup with herb chantilly and crispy prosciutto is a pretty perfect way to start a three-course meal.
Share Your Meal #PVDEats