Have you seen the billboard on I-95, headed north on the Thurbers Avenue curve? It declares that Providence was voted the number one food city in the U.S. by
Travel + Leisure
magazine. Think, for a moment, about what a
huge accomplishment
that is for our fair city. If you've lived here for longer than a couple of decades, the award is downright astounding.
There was a time, long before the Renaissance, when you could hit a bucket of golf balls through Kennedy Plaza on a Saturday night and not hit a soul. Now city sidewalks bustle with revelers full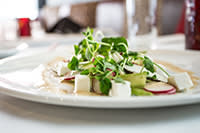 from divine meals at
Gracie's
,
Local 121
,
Hemenway's
,
XO Café
... the list goes on and on. There's a lot that goes into re-invigorating a city, not the least of which is talented people with a willingness to take a chance on making a contribution to the effort.
The foundation for an award like the one from
T+L
was laid long ago by the Italian immigrants who opened modest restaurants on
Federal Hill
. A century later, folks such as John Elkhay - still a reigning king of restaurants in Downcity - Ned Grace, and Bob Burke of
Pot au Feu
took a chance
on Downtown when few others would dare.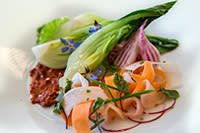 In the last several years, the list of those chefs and restaurateurs who continue to raise the culinary bar is too long to list. But they are a group who has
trained at the top schools
and under the best mentors. They've won awards and attracted national acclaim. They continue to perfect their craft and
push the limits
of what it means to be a good chef. And they have formed a community in which they share and learn from each other. We all benefit from that.
Next time you pass that billboard, think about the chefs and restaurateurs who've gotten us to this great, delicious place.
It sure is something to celebrate!