'Tis the season ... for desserts! What better way to celebrate the holiday season than with a delicious dessert recipe from a local chef? Executive Pastry Chef Matthew Petersen from Newport Restaurant Group is here to share three of his favorite holiday recipes so you can make them at home. Today we're featuring his Vanilla Creme Brulee with Pumpkin Snickerdoodle Cookies. Watch the video below and see the full recipe as well. 


Vanilla Creme Brulee With Pumpkin Snickerdoodle Cookies
Ingredients:
Creme Brulee:
1 quart Rhody Fresh heavy cream
2 each vanilla pods
1/2 cup + 1/3 cup sugar
17 each egg yolks
Pumpkin Snickerdoodle Cookies:
1 ¼ cup unsalted butter, soft
1 ¼ cup + 1 tablespoon sugar
1/2 cup + 3 tablespoon brown sugar
1 each egg yolk
1 teaspoon vanilla extract
1 cup pumpkin puree
5 cups all-purpose flour
2 teaspoons cornstarch
1 teaspoon cream of tartar
2 teaspoons baking soda
1 teaspoon baking powder
1/2 teaspoon kosher salt
1 ½ teaspoon cinnamon
1/2 teaspoon ginger
1/4 teaspoon nutmeg
1 teaspoon cinnamon
¼ cup sugar
Steps:
Creme Brulee:
1. Pour the heavy cream into a pot and add the scraped vanilla pod, bean and all.
2. Stir in half of the sugar.
3. Bring to a boil over a medium flame.
4. Pour the egg yolks into a mixing bowl.
5. Once boiling, immediately begin to temper the egg yolks by gently stirring with a spatula while you pour in some hot cream.
6. Add the remaining cream right into the bowl and return to the pot.
7. Strain the custard through a chinois, or fine mesh strainer.
8. Ladle into ramekins and bake in a water bath at 250 F for 20-30 minutes or until the custard is set with a little jiggle.
9. Serve at room temperature or slightly chilled. Brulee some sugar in the raw on top before serving.
Pumpkin Snickerdoodle Cookies:
1. Blend together the flour, cornstarch, baking soda, baking powder, salt, cinnamon, ginger and nutmeg.
2. Blend together the second cinnamon and sugar in a mixing bowl - set aside.
3. Using a stand mixer with the paddle, cream the butter with the sugars and salt until light and fluffy - 3 minutes.
4. Add the pumpkin puree and the egg yolk and combine well.
5. Scrape down the bowl and add the dry ingredients in two stages.
6. Refrigerate the dough for 2 hours.
7. Scoop into golf ball-sized mounds and toss in cinnamon sugar.
8. Press into a baking sheet and bake at 350 F for 10-13 minutes.
9. Underbake to keep them nice and chewy.
About the Chef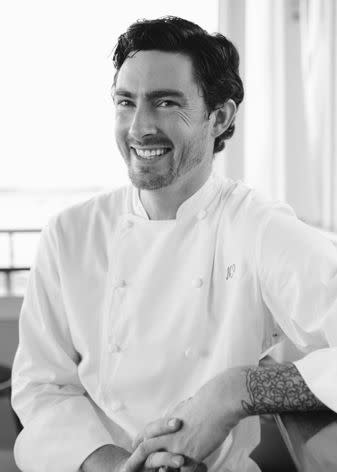 Matthew Petersen
Executive Pastry Chef
Newport Restaurant Group/Papa Razzi Metro
As Executive Pastry Chef of Papa Razzi Metro, Chef Matthew Petersen elevates every guest's experience with delicious, artfully crafted desserts and bread. "I view my job as an important one, because my team's creations are the first and last items you see on the table," says Chef Petersen.
Growing up in the suburbs of Philadelphia, Chef Petersen's memories of his mother relentlessly baking cakes, cookies and pies was a key component in his decision to pursue the culinary arts. Fueled by his passion for confections, Chef Petersen enrolled at Johnson & Wales University in Providence, R.I. where he graduated with a degree in Baking and Pastry. Chef Petersen then took a pastry chef position at the Relais & Châteaux Castle Hill Inn kitchen, working alongside Chef Casey Riley. Next, Chef Petersen relocated back to Philadelphia, where he took over the position of pastry chef at the distinguished Morimoto restaurant.
Chef Petersen's time under Masaharu Morimoto quickly led to a position at LaCroix, working with Philadelphia's "Godfather" of French cuisine, Jean-Marie LaCroix. It was there that Petersen not only learned to refine his style and technique, but was invited to stage at Daniel Boulud's restaurant in New York, Daniel. Chef Petersen soon went on to acquire the title of pastry chef at Boulud's midtown restaurant DB Bistro Moderne, which led to a position as executive pastry chef for CityZen and Sou'Wester at the Mandarin Oriental in Washington, D.C. Chef Petersen's extensive culinary knowledge brought him back up the Eastern Seaboard, where he took on the role of executive pastry chef for the highly esteemed Newport Restaurant Group before joining the Metro team.
Chef Petersen's love and appreciation for classic and experimental desserts translates seamlessly onto Metro's menu, where he aims to transform familiar favorites into desserts that guests have never seen before. Chef Petersen says, "My desserts are a reflection of me and where I've been - I show who I am on the plate."