Always a glittering spectacle, WaterFire shines a little bit brighter when it salutes those who have served our country. The seventh annual WaterFire Salute to Veterans takes place on Saturday, Nov. 2, and is the largest community-wide celebration of our nation's veterans in the area, with an estimated attendance of more than 75,000. This full lighting will be solely dedicated to celebrating and remembering veterans, active and reserve military personnel, and their families.
The night is a tribute to veterans and their families, as well as an opportunity to educate the community about the services available to veterans. There will be ceremonies and events throughout the evening that span the course of the entire WaterFire route. Among the highlights are a Veterans Resource Fair on Washington Street and a storytelling tent.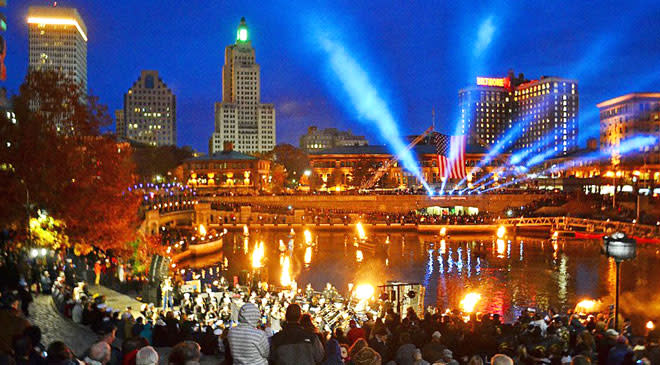 Be sure to get there early to see the opening festivities, which will include a color guard, a performance by the Army 88th Band, and a spectacular 300-person torch salute featuring all branches of the armed forces and representing major conflicts spanning from WWII, to the Korean War, to current times. In addition, Memorial Park will become a celebratory field of blue stars, dedicated in thanks to veterans and their families. The public will be welcome to add their own light to the night with messages of thanks, which will be illuminated by luminaria candle lanterns.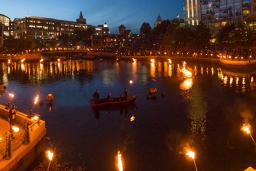 **New Date Added, Tuesday, October 22 for Basin Lighting** You can travel the globe and never find Learn More ›