Should you ever doubt one creative guy with a dream can make a change, take a look at Barnaby Evans, creator of WaterFire. It's now hard to imagine Providence without this iconic, defining artistic experience.
In 1994, when Evans created the first WaterFire, Providence was a city in dire need of a transition, and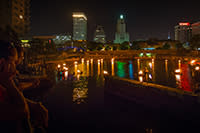 Evans' illuminated installation on the city's rivers symbolized the power and spark of an urban community. Over the years, as it grew in both size and popularity, so did the city it called home. WaterFire had - and still has - the ability to draw in those of us who have always lived here and needed, desperately, to see our city in a brand new light. And of course, with awards and mentions from media large and small, it attracted visitors far and wide, allowing them too to see Providence in a way that we perhaps hadn't seen it ourselves.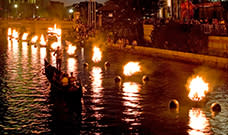 WaterFire became the symbol of the Providence renaissance, as well it should have. Born of creativity and artistic vision and a good dose of independent spirit - much like Providence herself - Evans' creation became a living, fire-breathing example of how art can transform and unite an urban community. With its blazing bonfires, entrancing music and intoxicating scent, it gave us all a way to experience our city on a sensual level, and gave us a good reason to be proud.
WaterFire has not existed without strife. Skyrocketing expenses and shrinking budgets have threatened its existence, but Evans and his band of loyalists have endured. This season, make sure you take in at least one, and marvel at the fact that it's been almost 20 years. And celebrate the city we've become, thanks, in part, to one guy.