Clearly moms should be lauded, celebrated and pampered throughout the year. But — speaking for myself — I'm happy to get the one day. Right now, we may be holding off on the big brunches and outings, but if you're looking for a stellar gift or a way to show mom how much you adore her (and really clinch your spot as her numero uno kid) here are some suggestions.
Gifts Galore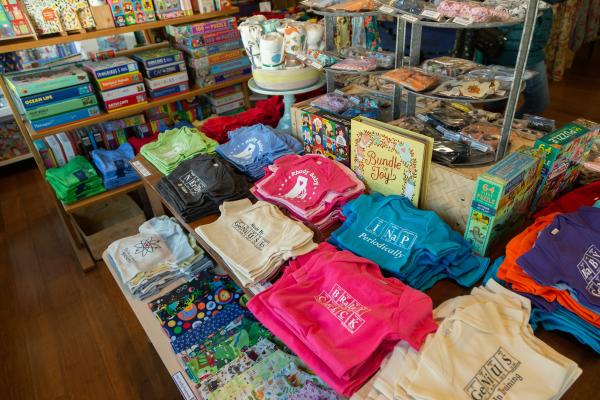 Super cool socks, sassy scarves, oh so pretty earrings ... Rhody Craft is the perfect place for a fun gift for mom. And, did I mention puzzles? I don't know about you, but after weeks of being holed up at home, we've cranked through our puzzle stash. A fresh one would be appreciated. Place your order online now. I'll take one Benny's mug and an Awful Awful tote, please and thank you.

Grab a bottle of Champagne, rosé or whatever mom fancies at Gasbarro's Wine. Located in the heart of Federal Hill, Gasbarro's has a long history of wine expertise (all the way back to 1898) and features a vast collection of wines from Italy and California. With in-state delivery and curbside pickup, Gasbarro's is doing everything they can to make things easy on shoppers at this time. And if you need a little assistance, they are even offering virtual personal shoppers to help you pick the perfect bottle to toast mom.
Spritz Joy

There's nothing like a new bottle of perfume to perk you up. And after weeks in sweatpants and slippers, a new fragrance is just what mom needs to put a smile on her face. Providence Perfume Company offers a vast selection of assorted scents, and bath and body products, handcrafted from natural botanical ingredients. Order online now.

Mom is probably so, so very done with cooking at this point. Give her a break and pick up a yummy meal to go from one of the many area restaurants offering takeout. Order up some of her favorite dishes at Avvio Ristorante, La Collina Restaurant at Hillside Country Club, The Capital Grille or Siena in Smithfield and East Greenwich, to name just a few. And the best part — you get out of washing the dishes.
What better way to show mom some love, than heading out for a fun-filled day with the... Learn More ›