Want to support your local community and look good doing it? In response to the positive feedback from the recent reboot of the Rhode Island Foundation's Buy Local RI initiative, GoProvidence and the Rhode Island Hospitality Association have partnered with Frog & Toad to launch a limited run of Buy Local RI T-shirts. The project is an exciting way to show support for local businesses, artists and the hospitality industry as a whole, with a portion of the proceeds being donated to the Rhode Island Hospitality Employee Relief Fund.
"Ever since the Rhode Island Foundation gave us the go-ahead to relaunch the Buy Local RI campaign last December, we've received daily requests to bring back the original rooster T-shirts," said Kristen Adamo, PWCVB president and CEO. "This project was an opportunity to showcase the awesome collaborative nature among our business, hospitality and artist communities. These shirts are designed, printed and sold locally, while also directly supporting many of our family, friends or neighbors in the hospitality industry in need of financial assistance."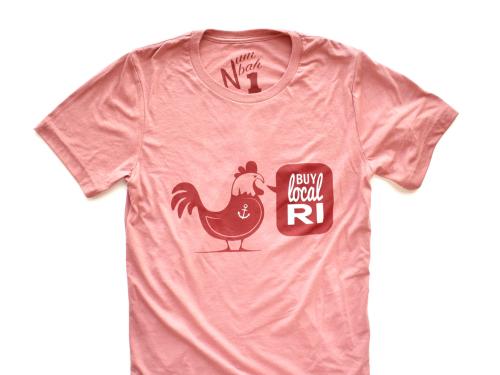 Three shirt designs with variations of the rooster logo are available now. One with the classic logo, a second with a floral spin and a third with a cartoon flair.
The designer of the second shirt, Maret Bonderew, is the illustrator and designer for Frog & Toad Press, whose greeting cards, patches and prints can be found in hundreds of stores around the country. She also works as a freelance illustrator with a focus on hand-lettering and community-conscious projects.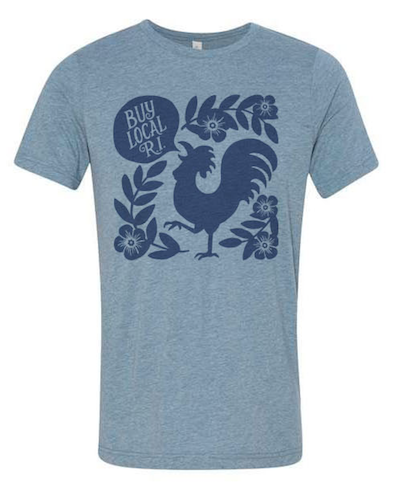 The third design was created by Michael Ezzell, a Providence-based artist with a focus on printmaking, painting and illustration. Originally from Indiana, Michael studied at the Savannah College of Art & Design and was lured to Rhode Island by the rich creative culture and arts community in Providence. Many of his murals can now be found around the state. He's also been hard at work screenprinting each Buy Local T-shirt at the Frog & Toad studio!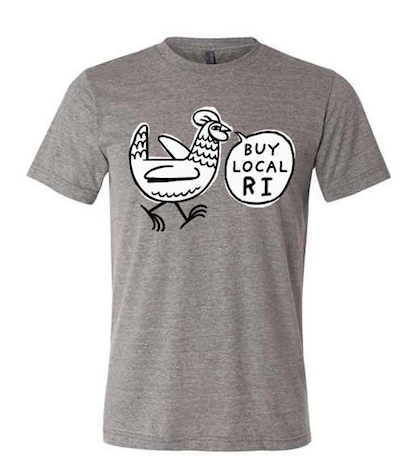 The shirts are $22 each and are only available for purchase online at frogandtoadstore.com. Curbside pickup is available at Frog & Toad's 795 Hope St. location. They also offer free nationwide shipping on orders over $50.