Welcome to BlogProvidence, an offshoot of GoProvidence.com.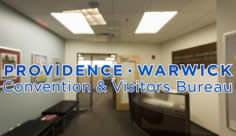 Here at the Providence Warwick Convention & Visitors Bureau (PWCVB) and GoProvidence.com, we aim to be an expert resource for our destination. But in a city of more than 180,000 people, seven colleges and universities, a ceaselessly creative community, and all of the idiosyncratic and ever-evolving characteristics that make the place so special, we needed a new outlet to better reflect our savvy city.
Thus, a blog is born.
BlogProvidence will feature stories, photos and videos from the talented team at the PWCVB and many of the people that make this a great place to live, work and visit. This group of dedicated destination experts will dole out insider tips, spotlight special events, reveal hidden hot-spots, and generally provide suggestions on how to best enjoy Providence and its surrounding areas.
Of course, there will also be other things; things we don't quite know about yet - and that's part of the fun. This space will no doubt evolve and it is our hope that you can join us along the way. If there is a certain subject or feature you'd like to see, let us know at blog@goprovidence.com. We look forward to hearing from you and sharing our city together.