Providence more than lived up to its ranking as the #1 City for Food/Drink/Restaurants (courtesy of Travel + Leisure's "America's Favorite Cities" poll) this week as uber-cool local magazine Providence Monthly hosted "Providence Cocktail Week." The mag put together a series of events celebrating the city's vibrant cocktail culture.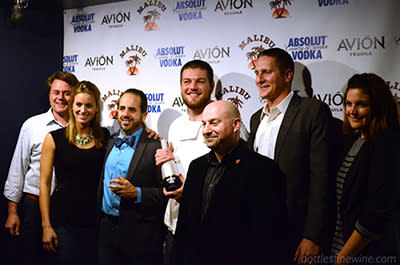 I was invited to judge Wednesday's Cocktail Competition, where some of the city's top bartenders went shaker-to-shaker to find out who was the best barkeep in town. Admittedly, it is the kind of "work" that leads my friends and family to shake their heads and wonder if I am, in fact, actually employed.

Round One included 12 different competitors who each created a signature drink. Standouts included downtown favorite Tazza, with a warm cinnamon-y Sunrise Sangria, Farmstead's refreshing and creatively-named Nervous Fugitive, and Local 121's salute to Steely Dan, the Black Friday.

While we judges reluctantly narrowed the field, the cool crowd at hot spot Fete, were treated to a go-for-broke performance of funk and soul classics by the Funky Autocrats (their name is a nod to local favorite Autocrat Coffee Syrup).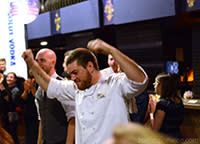 The six finalists were then asked to make a cocktail on the fly that incorporated either whiskey or rye. The Dorrance's James Beard-nominated bar program was ably - and theatrically - represented by Vito "Daddy Goodtime" Lantz who truly entered the ring, sporting a boxing robe emblazoned with his nickname. In the end, Lantz was a top competitor in the slugfest but it was The Grange's Joseph Haggard who pulled out a very narrow victory.

To get all the great cocktail recipes, visit Facebook.com/ProvidenceCocktailWeek.